Dungeons Mod 1.18.1 → 1.12.2
A huge Minecraft Dungeons Mod that includes new places, armor, monsters, weaponry, materials, and treasures. You can now experience all of the biomes!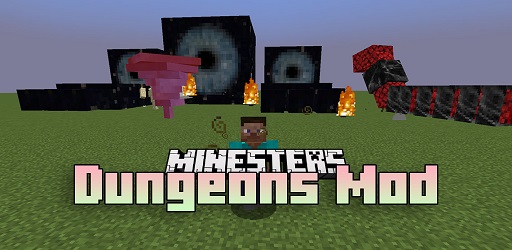 Description about Dungeons Mod
Get New Biomes and Content with Minecraft Dungeons Mod
Minecraft is more fun to explore because of the dungeons. The sites include aggressive creatures that must be defeated and a plethora of treasures to be discovered. Today, numerous Minecraft mods are available for download, but none are quite like the one you are about to encounter.
The Minecraft Dungeons Mod is the greatest Dungeon mod currently available. With its fantastic features and functionalities, you will be able to view many unique biomes and contents in Minecraft. This Mod attempts to recreate a Minecraft Dungeons experience as closely as possible to the original.
Many different types of mobs and equipment might be used, and you can make many more choices in this Mod! The Minecraft Dungeons Mod can summon things, destroy things, present you with a fresh challenge, and lets you battle with them for as long as you can stand it. In comparison to several other mods, The Minecraft Dungeons Mod includes some unique opponents that are appropriate for these situations.
Armed guards in their castle surround a king to protect him from enemies. Scientists working on their Slime wolf research may be found in the Lab and many more. Although the Mod is currently in its early development stages, you can try out the beta version and get a taste of what it's like to play in a world-class dungeon in Minecraft. This Mod is ideal for players who are seeking new challenges and opportunities to get more experience.
Require
Note: Need to install more required mods to use the best Mods, all must use the same version
How to install Dungeons Mod
Make sure you have Forge Mod installed
Search and download any mod you like on our website.
You will get the .jar file after downloading, copy the file.
Press Window + R, type %appdata%, press Enter.
Navigate to the .minecraft folder, then to the mods If you don't have a mods folder, create one, paste the .jar file inside the mods folder
Download Dungeons Mod
Compatible Version
1.18.1 - 1.18 - 1.17.1 - 1.16.5 - 1.16.4 - 1.16.3 - 1.12.2