Funland 3 is a Minecraft custom map created by Superpish. It was created back in 2013 and has over half a million downloads with over 900+ players voting.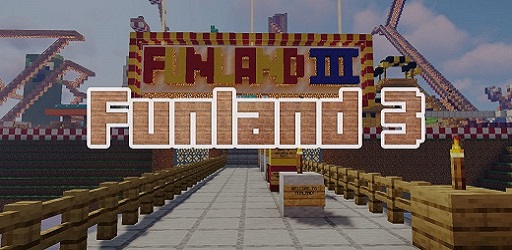 Description about Funland 3 Map
Funland 3: Amusement Park Maps That Bring The Childhood Memory
In Minecraft Funland 3, you'll have fun just by walking around, pressing a random button, and enjoy the fascinating moment! Different from a lot of other Minecraft custom maps, where it is super intense because you will need to survive and fight mobs.
But when it comes to Funland, there is no more! No killing, no hunting, and no surviving at all! Remember back in the day, you're at the park and see all the interesting games around you. Funland will recreate that scene and bring you nostalgia!
1.What is Minecraft Funland 3 Map?
Funland 3 is a Minecraft custom map created by Superpish. It was created back in 2013, so basically, just a few years after Minecraft was released. Funland 3 category is very rare and unique because it belongs to the Amusement Park Maps category. Where the map maker shows joy and happiness to the player.
Funland 3 has over half a million downloads and the map itself only has 21MB, so you can easily download and enjoy the fun land among the others. Since the map receives a 4 out of 5 stars rating with over 900+ players voting.
Funland 3 Minecraft java edition requires no special mods and it's compatible with earlier versions of Minecraft because it was released 7 years ago, so Minecraft with version 1.5 and up can still play this map.
Funland 3 map is really huge and it has over 100+ different unique minigames for you to play, so ready your coffee and get attracted to hypersonic roller coasters, water rides and slides, animal runs, and secret exploring!
Funland Park currently contains 36 Roller Coasters, 17 Restaurants, 17 Water Rides, 7 Shops, 6 Kiddie Rides Plus, and 26 other attractions spread throughout the map. When wandering around the place or play the game, keep an eye out for any secret chests, since it will reveal the story about the Funland park and its owner.
The thing is, you won't be allowed to destroy any blocks since you will be using adventure game mode anyway. That's why every secret chest and easter eggs are accessible and some beyond super easy to find. Finally, if you need any help, go ahead and search the Funland forum for these secrets.
2. Funland 3 Minecraft Minigames
Funland 3 is basically the land filled with fun. Or endless fun I'd say! You will come across different places and go through every single of the attractions on the map. But not stop there, you can just choose your own path to play the game.
Simple and peaceful as that, Funland 3 Minecraft map however has some rules that you must follow. These rules are not making the game harder or restricted anything, instead, they make the game much more enjoyable and super relaxing! Rules include:
You need to (but not required) set your game mode to Peaceful. This will prevent any mobs from spawning and you can regenerate your health anytime because there is no hunger penalty at all. If you choose not to, Funland may become a Chaotic land :)
You're gonna take some damage for sure. But the map intentionally hurt you only for a few damage. In case you hurt yourself and nearly die, you could visit First Sid Station for golden apples. Free regeneration!
If you've ever seen any animals in any minigames, leave them be! They're a crucial part of it, so if you're gonna kill them, you can't play the game anymore! But passive mobs are still able to spawn on the grassland, so feel free to slay any that outside of the minigame.
For any roller coaster games, remember to place your minecart probably. They are mostly placed on the sloped railway and not the one straight on the ground. After making sure you place the cart right, just press the button next to it and enjoy the ride!
Playing with your friend may have some problems since you need to wait for a ride to complete before starting a new one. You can just start one after another, but doing so will have a chance that the minecart is collapsed into each other and stop running, ruin your experience. In this case, just manually bring your cart back to previous powered rails.
Finally, when you're ready, just let your spirit free and seeking for the fun! Funland 3 is a super gigantic map, so if you ever get lost, please use a map attached in the map folder. You should be able to see the overall map, where you are, and the location of every attraction of Minecraft map Funland 3.
1. Roller Coasters
Funland 3 map has over 30 roller coasters, each one of them has a unique storyline and theme, so you won't get bored that easily. The theme and blocks variety change from the Red Devil to the Tree House, so the opposite mood like that will make you super interested!
Roller Coaster games are mostly based on Minecraft minecart and railing system. While this system is introduced for mining purpose in Minecraft, the map owner use it as a ride to enjoy the scenery than a ride to a destination.
At the entrance of each roller coaster minigames, you can find a sign that describes the duration of the ride. So this is just a life-saving feature because you can tell how fascinating that ride is, and you can plan your time accordingly if you're gonna make a video about it.
2. Attractions
Attractions in Funland 3 are simply a place you can come to, sit back, and relax. Sometimes, you can come across some challenges and actual gameplay like the Pig Race, the Parkour (but super easy, don't worry), the Kissing Tower, or the Shipoopie - the place where you begin at.
Some attractions are having nothing to do with, but isn't it? Do you think the map maker just build a beautiful place just for you to come and do nothing? Look around! You may find a chest, or something even more valuable than that!
3. Restaurants
Funland 3 Restaurants are the place you can get a food supply for yourself, your friends, and your kids :). Just like roller coasters, each restaurant will have a different theme and set of items for you to collect. You can eat and digest them as well!
You can even turn the Funland into the Farmland! Basically, you gather all the food around the map. Then find any animals, lure them into a pen and start breeding them. Now you have a giant barn!
4. Water Rides
Water Rides are another variation of the roller coaster in Funland 3. Basically, by switching the minecart with the boat, now you have a new set of new minigames to play with.
What makes Water rides different is they're mostly located in the center of the map, and in a giant water game. Where role coaster and other types of minigames just spread out of the Funland 3 map.
5. Shopping
You can buy T-shirts, photo stands, merchandise, trinkets, doodads, potions, and a lot more items at the Funland 3 Shops. But you don't need to pay anything because Funland 3 park is empty :D.
For me, the only valuable shop is the T-shirt shop, where you can get yourself a full set of armors. This will help you a lot on the Fire ride since they can protect you from any obstacles and such things.
6. Kiddie Rides
Another variation of Funland 3 roller coasters, but with a shorter duration, and the theme is also more attractive and colorful to lure in the kids.
3. Funland 3 Download
If you don't know what to do, or just completed a Minecraft speed run challenge, Funland 3 may be a suitable Minecraft map for you to relax! Despite the fact it was created in 2013, Funland 3 is still playable with these versions: Funland 3 1.16.5, Funland 3 Minecraft 1.15.2, and Funland 3 Minecraft 1.12.2.
How to install Funland 3 Map
Find and download any map you want from our website.
Usually you will get a zip file after downloading any map. Just unzip that file (if you can't extract you might want to install Winrar)
After extracting, you will see several folders. Carefully select the correct folder and copy (Ctrl + C) it.
Press Window + R, type %appdata%, then press Enter.
Navigate to the .minecraft folder, then to the save
Paste (Ctrl + V) your map folder here.
Start Minecraft, when you select Single Player, you will see downloaded maps listed here along with your world.