Herobrine's Mansion Map 1.17.1
Minecraft Herobrine's Mansion is created by Hypixel in 2012 and it's one of the most popular adventure maps in the horror genre. Enjoy the epic boss fights!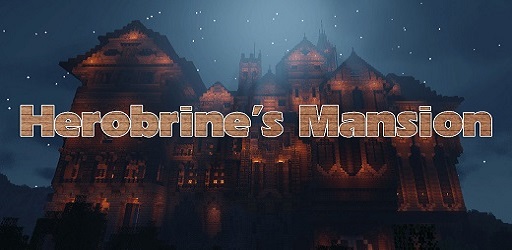 Description about Herobrine's Mansion Map
Herobrine's Mansion: A Fascinating Custom Horror Adventure Map
If you want to experience a new thing and feel nostalgic at the same time in Minecraft, I'd recommend you to play Minecraft Herobrine's Mansion. This custom adventure map will force you to face a Minecraft legend, the Herobrine!
1. Who is Herobrine in Minecraft?
First of all, let find out who is Minecraft Herobrine? Or what is I would say?
Herobrine is a Minecraft myth about a guy who looks very similar to Minecraft's default character, Steve. But instead, his eyes are covered in white, which makes him super creepy.
Herobrine usually appears on some screens, or behind the player and silently watching them. He can teleport like an Enderman and can create creepy sounds. But apparently, no one was harmed by Herobrine till this day. So everyone ends up confirm that Herobrine is just a myth, a well-told story.
2. Herobrine's Mansion Map
Herobrines Mansion adventure map is created by Hypixel in 2012 and lately was rebuilt using command blocks. It's one of the most popular adventure maps you can find on the Minecraft map forum. Minecraft Herobrines Mansion map is so unique that it will impress you once you're just loaded in the map.
Throughout the journey, the Minecraft Herobrine adventure map will bring you to 6 epic boss fights and customized mobs, where you can get the currency called "Crystal" from beating them. And you can use these crystals to buy items in the shop.
You will be taken from place to place, to the silent forest into the haunted Herobrine's mansion. Next to it is the entrance to the cave where your adventure continues on.
As just only in the mansion, there are various types of bosses you will meet. But you need to find their location in a huge mansion with many floors and rooms.
You can easily find the Spider located in the boss hallway. Once entered, there will be a sign to tell you to watch out for the spider, and as long as you progress into the room, the more spider web you will see, and even some bodies laying on the floor. Yep! The more you go, the more creepy it becomes.
After you traveled rooms through rooms, you will end up in a boss room full of cobwebs. So what are you waiting for? Prepare yourself and ready the equipment for Spider queen!
Opposite the Spider queen, the Witch is the special boss where you can find it underground, near the crypt. If you see any staircases lead to the basement, just go for it and you will a big room with a sign on it say "The Witch boss". Easy, right?
The mansion section ends when you defeat the Herobrine, which is located in the boss hallway as well. When you come across the room, just prepare everything you can and press the button to summon the Herobrine boss.
Later on, you will need to fight against the most dangerous boss in Minecraft, the Wither. In order to slay it, it's recommended to prepare an ultimate gear. So there is a villager on the Wither platform that sells a powerful bow for 10 crystals of anger. Which you can get from defeating the Obsidian Skeletons. Remember to use the Holy Water to increase both your defensive and offensive skills.
On your journey, you will find a lot of different new things like customized items and item sets, which will give you a unique ability when wearing. Or you can find custom potions by coming across several secret rooms on the map.
About the map's duration, Herobines mansion map can take up to 1-2 hours of gameplay, which is enough for you to enjoy a Friday night. Not like other adventure maps, where their play duration is only 15-20 minutes.
With a duration like that, you will think the map will have a lot of empty space or boring trips all over it, but it's not! You can see the details in every corner of the map. From how the map creator layout the builds, putting life on every single piece of furniture and stuff, making the map feel so real and immersive.
You can even fly out to the back of the Herobrine's mansion to see how detailed the build is, even in the back. You can also find some easter eggs and secret things along the way. So remember to take a moment of that!
3. Herobrines Mansion Map Download
Herobrine's mansion adventure map uses a custom texture pack/resource pack to make the atmosphere even creepier. So if you just feel in love with the mood overall, you can download the Herobrine's Mansion texture pack below. Or another alternative is the Herobrines Return texture pack.
Another thing is you don't need to download any other mods/plugins to play this map. You only need to download the map itself, put it in the Minecraft map folder and it should be good. Remember to turn on the music and sound for the best experience.
How to install Herobrine's Mansion Map
Find and download any map you want from our website.
Usually you will get a zip file after downloading any map. Just unzip that file (if you can't extract you might want to install Winrar)
After extracting, you will see several folders. Carefully select the correct folder and copy (Ctrl + C) it.
Press Window + R, type %appdata%, then press Enter.
Navigate to the .minecraft folder, then to the save
Paste (Ctrl + V) your map folder here.
Start Minecraft, when you select Single Player, you will see downloaded maps listed here along with your world.
Download Herobrine's Mansion Map