Immersive Engineering Mod 1.18.1
If you have ever wanted to add more tech to your game, the Immersive Engineering mod is a perfect fit. This mod both adds new items and makes old items look better.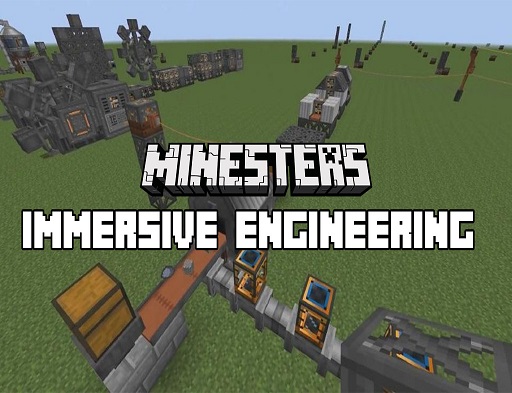 Description about Immersive Engineering Mod
Immersive Engineering: Steampunk Meets Future Technology
One of the things that the Immersive Engineering mod is best known for is its machines. However, the machines aren't usually pre-built. Players need to build each machine themselves out of several blocks. This helps to set the Immersive Engineering Minecraft apart from other technology-based mod packs, which simply add new machines to the game without giving the players any extra work. While this does make the Immersive Engineering mod a bit tricker to get used to than other similar mods, it does make it more exciting too.
The Immersive Engineering mod adds over 100 new items to the game. Many of these items are based on real-life items that are used to make technology. Some examples include new ores based on real-life elements, wires, coils, heaters, steel, scaffolding, biodiesel, treated wood, and much more! All of these new items are used to build something new. Of course, the Immersive Engineering creators (BluSunrize, Damien_hazard, Sky_Som, malte0811, and CFGrandanaStats) don't expect players to use trial and error to make everything. The mod pack includes recipes to create everything players need.
Even though there are so many new items, this Minecraft mod pack keeps the same look and feel like a traditional Minecraft game. All of the elements, ingots, buckets, and bottles are just as blocky as players are used to. However, that doesn't mean it looks "bad." A group of artists have worked on this pack to make sure the tools in the game (hammers, cartridges, bayonets, etc) look more realistic than the weapons in vanilla Minecraft.
All in all, the Immersive Engineering pack is perfect for any Minecraft player who has a passion for engineering and creative building. With over 80,000,000 downloads since 2015, players have proven to love this mod, and new players are sure to love it too.
How to install Immersive Engineering Mod
Make sure you have Forge Mod installed
Search and download any mod you like on our website.
You will get the .jar file after downloading, copy the file.
Press Window + R, type %appdata%, press Enter.
Navigate to the .minecraft folder, then to the mods If you don't have a mods folder, create one, paste the .jar file inside the mods folder
Download Immersive Engineering Mod
Compatible Version