Immersive Portals Mod 1.18.1
Annoyed with the limitations of Minecraft regular portals? The Immersive portals are here to give you a seamless and unique experience. Go ahead and have some fun!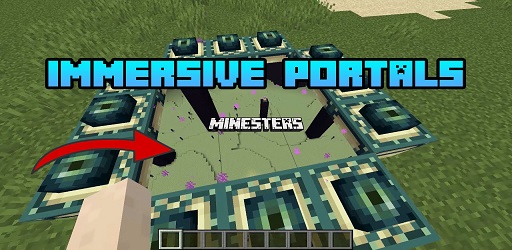 Description about Immersive Portals Mod
Enjoy Cool Effects with the Immersive Portals in Minecraft
Minecraft is a game that allows for endless creativity. With the release of the Immersive portals, that creativity has been taken to a whole new level. The portals mod creates an "other-worldly" feel in your Minecraft world. This mod provides see-through portals and seamless teleportation, allowing you to make some truly unique effects.
The biggest draw of the Minecraft Immersive portals mod is the removal of the annoying loading screen. You can instantly step into another realm without dealing with the black and purple barriers of the regular portals.
Another attraction of the Immersive portal mod Minecraft is its see-through quality. You can literally peer into the transitioning realms. Isn't that cool? With it, you can create "Non-Euclidean" effects, making a space look like something out of a science fiction movie.
The Immersive portals mod Minecraft eliminates many limitations of the Nether and End portals. It can load more than one dimension and render chunks nearby and far.
Some features of the Immersive portal mod Minecraft are genuinely distinctive. As a player, you will definitely enjoy the rotation and mirror modifications. Because of no loading screen, the teleportation from one realm to another feels seamless.
You can install the Minecraft portal mod directly or use a mod-compatible program. This is a relatively complex mod, so make sure you understand how mods work in Minecraft before attempting to install it.
There are all sorts of new things you can enjoy in the Immersive portals, so be sure to experiment a lot. With this mod, the possibilities are endless!
How to install Immersive Portals Mod
Make sure you have Forge Mod installed
Search and download any mod you like on our website.
You will get the .jar file after downloading, copy the file.
Press Window + R, type %appdata%, press Enter.
Navigate to the .minecraft folder, then to the mods If you don't have a mods folder, create one, paste the .jar file inside the mods folder
Download Immersive Portals Mod
Compatible Version