JourneyMap Mod 1.18.1 → 1.12.2
The JourneyMap is a client mod that can also be used as a server mod. This works along with Forge to help make Minecraft maps in real-time as you travel.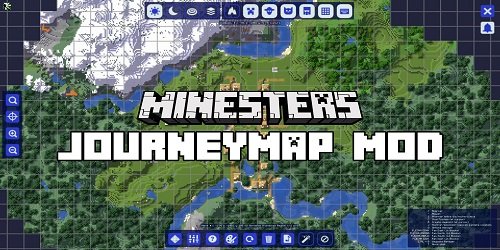 Description about JourneyMap Mod
JourneyMap: Map-making Client and Server Mod
The JouneyMap Minecraft mod helps to create maps as you travel around the Overworld. This is unique from the vanilla Minecraft map, as the JourneyMap only shows the areas that you have already traveled to. This makes the game seem more realistic. It is like you are a real-life mapmaker who is drawing a map of new land.
Another cool thing about the JourneyMap mod is that has two options to view the created map. When you are playing on the computer, you can make the map full-screen in your game. This is great for when you are playing Minecraft and need to get somewhere. You can also access the JourneyMap even when you aren't playing Minecraft. You can do this by using any web browser (Chrome, Firefox, etc) or using your smartphone (IOS or Android).
The JourneyMap mod on Minecraft has some customizable features as well. Below is a short list of all of the customizable options.
Day/Night Mode
Cave Interior Maps
Nether Map
The End Map
Mob Radar
Player Radar
Waypoint Management
Automap Entire Worlds (Single-player Only)
Auto-follow Player
Save Map Modes
This map mod is perfect for players who use Forge to play on online maps alone or with friends. It is the perfect way to explore new worlds when you want all of the surprises that a real adventurer would have if they were exploring a new world. The JourneyMap mod has been in use ever since 2011 and was updated as recently as January 2022. This goes to show that the modders (Techbrew and Mysticdrew) are dedicated to keeping this mod up, running, and bug-free. This mod has been downloaded on CurseForge over 100,000,000 times, so players can be sure they are getting a great map mod.
How to install JourneyMap Mod
1.18.1 - 1.17.1 - 1.16.5 - 1.16.4 - 1.16.3 - 1.16.2 - 1.12.2
Download JourneyMap Mod