Mooblooms is a Minecraft mod that adds 15+ new mobs into the game, each of them has unique appearances and functionalities. This mod is inspired by Minecraft Earth.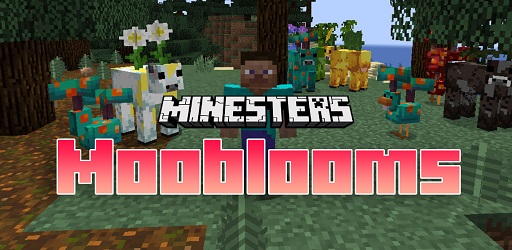 Description about Mooblooms
Mooblooms: Various Cows Inspired from Minecraft Earth
Mooblooms is a Minecraft mod with over 180,000 downloads that add several new textures and skins for the cow mob. If you already played Minecraft Earth, you will be familiar with this Minecraft mod, since Moobloom is inspired by it. Mooblooms Minecraft adds 15+ new mobs into the game, each of them having a unique appearance and functionalities.
New mob in Moobloom Minecraft are Dandelion Moobloom, Poppy Moobloom, Blue Orchid Moobloom, Allium Moobloom, Oxeye Daisy Moobloom, Cornflower Moobloom, Wither Rose Moobloom, Suncower, Bambmoo, Cowctus, Chorus Moobloom, Crimson Mooshroom, and Warped Mooshroom. While most of them usually only spawn in the Flower Forests biome, some of them required a certain special biome to be able to spawn like the Nether, Sunflower Plains, Bamboo Jungles, Badlands, or the End island.
In Mooblooms mod, if you use Shears on any cows, they will drop 5x respective flowers according to their appearance and turn into normal cows. You can also use a bowl in the Moobloom Minecraft mod to get Suspicious stews, just like how you get a mushroom stew in Vanilla Minecraft. Even if you're not a fan of suspicious stews, those colorful cows in Moonbloom Minecraft are still beautiful and fit really well into the game.
Before you install Mooblooms mod, make sure to download and install Fabric API and Fabric Modloader as well since this mod requires them. And unfortunately, if you want to play Moobloom in Minecraft with Forge, you have to wait! And one more thing, you can install and play Mooblooms mod with other Minecraft mods and texture packs. For example, you can install an Aestheticism texture pack to make the flowers in the Mooblooms look more realistic!
Require
Fabric API
Note: Need to install more required mods to use the best Mods, all must use the same version
How to install Mooblooms
Make sure you have Forge Mod installed
Search and download any mod you like on our website.
You will get the .jar file after downloading, copy the file.
Press Window + R, type %appdata%, press Enter.
Navigate to the .minecraft folder, then to the mods If you don't have a mods folder, create one, paste the .jar file inside the mods folder
Download Mooblooms