Napp Texture Pack 1.16.5 → 1.14
Minecraft's blocky texture makes it beloved. Napp texture pack keeps the blocks, but replaces the textures to look hyper-realistic, making for a unique experience.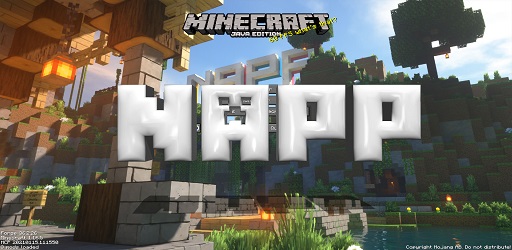 Description about Napp Texture Pack
Napp Texture Pack: Traditional Blocks with HD Realistic Textures
The Napp texture pack was originally released on CurseForge in November 2020 and most recently updated in August 2021. The Napp resource pack was created by Del_Cieno, a graphic designer and artist. They have used their skills to make a thoroughly beautiful texture pack that (as of January 2022) works on Minecraft v.1.16 and earlier game versions.
All of the blocks and design elements in Minecraft are the same shapes as the Napp texture pack. However, almost everything has a new design to it that makes it look a lot more realistic. For example, crafting benches in vanilla Minecraft look like blurry blocks of wood.
With the Napp resource pack, the crafting benches look like real wood plants with tools on the side, including a hammer and saw. The wonderful pattern of making things look HD starts with the dirt and reaches all the way into the trees.
Another great feature of the Napp texture pack download is that the shadows, lighting, and sky also look realistic. All of the shadows are roughly the same shape as the item that casts them, just like in real life. The direction of the shadow is also determined by where the sun is in the sky. Speaking of the sky, the clouds are fluffy, soft, and not-at-all blocky. Fires and other lights give off a soft glow.
Players can use a free Napp download to some of the game's basic updates or they can use a paid Napp texture pack download which comes with a few bonuses, like getting to choose from multiple resolutions and getting exclusive access to in-game stuff and all updates.
How to install Napp Texture Pack
Search for Minecraft resource packs or texture packs on our website and download it. The result should be a zip file.
Press Window + R to open a Run dialog, type in %appdata% then press Enter.
Navigate to the .minecraft folder, then the resourcepacks
Move the zip file you've downloaded earlier here. Finish installation
Download Napp Texture Pack
Compatible Version
1.16.5, 1.16.4, 1.16.3, 1.16.2, 1.16.2, 1.16.1, 1.16, 1.15.2, 1.15, 1.14.4, 1.14