Not Enough Items Mod enables you to add an endless amount of items to your inventory while also allowing you to modify the characteristics of any item in your collection!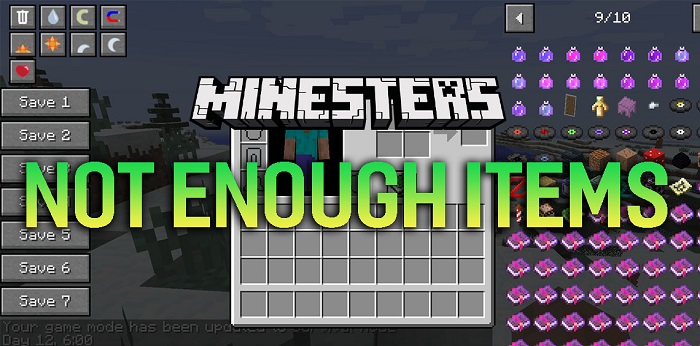 Description about Not Enough Items
Not Enough Items – Fill Your Inventory With Unlimited Items
Every Minecraft player has probably had the feeling that they don't have enough items in their inventory at some point. If this is the case, then Not Enough Items Mod is the one you've been looking for! It is possible to include an endless number of items in your inventory using the Not Enough Items Mod. Anyone who wishes to personalize their Minecraft experience will find it to be a very useful tool.
This mod improves the inventory system to a whole different level and makes it very simple for you to keep track of all Minecraft objects. You can design and pick the stuff you want without having to worry about anything. It also includes a recipe book, which has detailed information on each and every item that is stored inside the inventory. Also included is a built-in search option that makes it simple to find certain tools and actions inside the mod.
New features have been added to the mod, including a faster item finder, heal buttons, magnetic mode compatibility, and other enhancements. Minecraft becomes more dynamic and intriguing as a result of these features.
Not Enough Mod is a fantastic mod that was available from the start of Minecraft. Some great perks of this mod are, If the player chooses the Creative option, he or she has complete control over the game's features as well as complete protection to damages.
Require
Note: Need to install more required mods to use the best Mods, all must use the same version
How to install Not Enough Items
Make sure you have Forge Mod installed
Search and download any mod you like on our website.
You will get the .jar file after downloading, copy the file.
Press Window + R, type %appdata%, press Enter.
Navigate to the .minecraft folder, then to the mods If you don't have a mods folder, create one, paste the .jar file inside the mods folder
Download Not Enough Items