Secret Rooms Mod 1.18.2 → 1.12.2
Ever want to hide your valuable stuff in Minecraft? With Secret Rooms mod, you can keep your treasure safe, or even set a ton of traps for those stealers!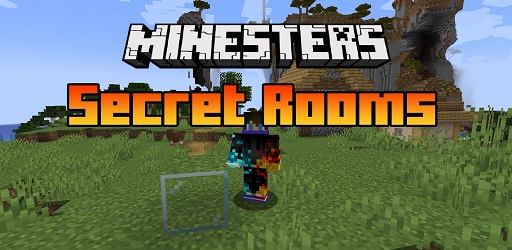 Description about Secret Rooms Mod
Secret Rooms: Best Hidden Room Minecraft Mod 1.18.2
Secret Rooms is a fascinating Minecraft mod with over 6,000,000 downloads. Although it was created back in 2013, the concept is really useful and it's well-executed. Just imagine you want to hide your valuable items like diamonds in Minecraft and you're making a hidden room. You enter that room either by flipping a lever or pressing a button. So do the others can do that too, and your secret room is revealed. And with the help of Secret Room mod, this is not gonna happen anymore!
Secret Rooms Minecraft provides a lot of custom camouflage blocks with different functionalities. For example, you can have a fake block with a texture of a wall block or hidden pressure plates which will trigger a deadly trap for the stealers, and you can even have a one-sided glass that allows you to look through only inside the room. Pretty convenient to spy on your enemies!
The basic material in the Secret Rooms mod is the Camoflauge Paste, which can be crafted by using red, yellow, green, black dye and a piece of dirt. The fun thing is that you don't need to follow the standard recipe, since the Minecraft Secret Rooms mod allows you to use substitute ingredients like sand, clay, and rotten flesh. You will need Camoflauge Paste for basically every recipe in Minecraft Secret Room mod.
You can even use Redstone to interact with blocks in the Secret Rooms in Minecraft. For example, the Camo Gate is a block that will camouflage itself like the block around it, will extend up to 10 blocks if it receives a Redstone signal. Another great thing in the Secret Rooms mod is the Torch Level item, which will start a Redstone signal when you right-click on it. Very suitable for the creepy mansion map with a hidden entrance to the basement.
Require
Note: All must use the same version
How to install Secret Rooms Mod
Make sure you have Forge Mod installed
Search and download any mod you like on our website.
You will get the .jar file after downloading, copy the file.
Press Window + R, type %appdata%, press Enter.
Navigate to the .minecraft folder, then to the mods If you don't have a mods folder, create one, paste the .jar file inside the mods folder
Download Secret Rooms Mod
Secret Rooms Can Be Compatible With These Versions in Minecraft
1.18.2 - 1.18.1 - 1.17.1 - 1.16.5 - 1.14.4 - 1.12.2