Security Craft Mod 1.18.1 → 1.12.2
Security Craft is a Minecraft mod that enhances the security of your items in the game. You will no longer have to be concerned about your belongings being taken!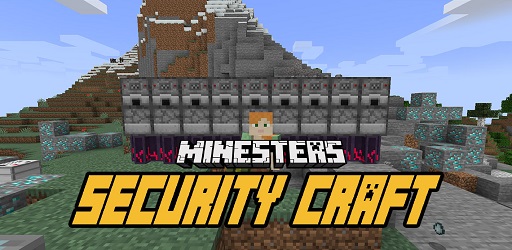 Description about Security Craft Mod
Security Craft – Secure all Your Precious Items from Thieves
There have been days when organizing and keeping items, and valuable potions have been a real hassle. Not now! Security Craft Mod is a mod that adds new methods to protect your base while you are not with friends or online on a multi-player server with other people. It is a standalone mod that does not need any more resources. Using the Security Craft Mod, you may make very secure storage rooms, limit access to restricted areas by putting up traps, and have the best defense system constructed around your build.
We will be able to secure the entrance to our homes and other properties with this mod by using retina scanners and other access control, such as doors that only open with a personal access code. The invader will have to work a lot harder now that Security Craft has been in order to keep them out of the authorized regions!
Probably the most useful feature of this Minecraft Security Mod is that it adds a diverse range of defense equipment, from those that are "very harmful," such as boiling water, bouncing mines, and scorching lasers, to ones that are "moderately dangerous," such as iron doors. Make your own personalized locks system to keep away the intruders!
Get the mod's Craft Guide so you can learn about all the different sorts of security systems. In creative mode, you can acquire it in your inventory; you can access it by typing "/sc help" if you are in survival mode. There are a wide variety of security systems available, ranging from antiques to cutting-edge technology. Intruders and criminals will no longer take your hard work!
How to install Security Craft Mod
Make sure you have Forge Mod installed
Search and download any mod you like on our website.
You will get the .jar file after downloading, copy the file.
Press Window + R, type %appdata%, press Enter.
Navigate to the .minecraft folder, then to the mods If you don't have a mods folder, create one, paste the .jar file inside the mods folder
Download Security Craft Mod
Compatible Version
1.18.1 - 1.17.1 - 1.16.5 - 1.12.2