Soartex Fanver Texture Pack 1.16.5 → 1.16.3
Soartex Fanver is a Minecraft resource pack made by Soar49. All the blocks are in a high resolution making the world look bigger and more realistic.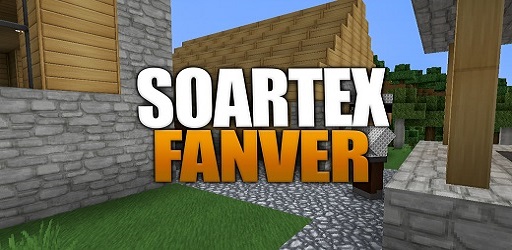 Description about Soartex Fanver Texture Pack
Soartex Fanver: The Smooth Contemporary Minecraft Texture Pack
Soartex is a Minecraft resource pack made by Soar49. And by this time, we only know Soar49 is a team and that's all information we've heard about them since they do not leak anything yet.
In this article, we will talk about the Soartex Fanver texture pack, its advantage, which version you should use, and a guide to download it at the end of this post. Alright, let's go!
1. Soartex Fanver Texture Pack
If you're like me, you will find the Soartex resource pack super realistic and clean. All the blocks are in a high resolution making the world look bigger, which will help your eyes a lot.
Right now, Soartex only has one texture pack resolution, 64x64 size. While the other resource packs have a variety of resolutions, from 16x16 up to 512x512 and beyond that. Because Soar49 believes that 64x is the best size for the texture pack to not be broken, while it still remains the lightness and enough for the eyes.
The greater the texture pack resolution, the larger it is required for your computer to run smoothly. So if you're looking for a 16x16 pack, I don't think Soartex is a wise choice.
Soar49 announce that they will not likely make any size besides the current one (64x64), but they're in a development process for a 32x version. So hopefully, you can wait until that moment.
Soartex currently has two versions: Fanver and Invictus. So what are the differences between them? And which one should you choose? Let's find out!
2. What are the differences between Soartex Invictus and Soartex Fanver?
Soartex Fanver is the original work of Soar49. It keeps things beyond the normal to make all blocks always have the highest quality. Later on, Fanver is now developed by the Minecraft community, so it's a public work.
On the other hand, Soartex Invictus is the optimized version of the Fanver one. It reduces the block patterns and aliasing to interpolate well with mipmapping and has presaturated foliage and grass for greater depth of color. Different from Fanver, Soartex Invictus was developed by Shoeboxam with Goldbattle.
Ok, so which one should I use? You may ask.
If your computer is good enough, I recommend you choose Minecraft Soartex Fanver as your main resource pack. Then you can download the Invictus version as well in case you're running into any performance issues. And enjoy the world of realism!
3. Improve the performance while using Soartex Fanver
If you really want to try out this realistic resource pack. Here are a few tips to improve the performance:
Update Java and use a 64-bit version of it
Upgrade your GPU, CPU, or RAM.
Allocate more RAM to Minecraft. At least 2GB or more if you can.
Close any unnecessary programs like browser, other games.
Install Optifine and reduce some of the settings
And that is it! We hope you can enjoy the Minecraft Soartex texture pack and dive deep into the world of clean, beautiful-looking blocks in Minecraft.
How to install Soartex Fanver Texture Pack
Search for Minecraft resource packs or texture packs on our website and download it. The result should be a zip file.
Press Window + R to open a Run dialog, type in %appdata% then press Enter.
Navigate to the .minecraft folder, then the resourcepacks
Move the zip file you've downloaded earlier here. Finish installation
Download Soartex Fanver Texture Pack
Compatible Version