Sodium Mod 1.18.2 → 1.16.2
Sodium Minecraft is a mod that helps to improve the framerate, micro-stutter, and overall performance of your game. It increases your gaming experience with the help of Sodium Minecraft mod.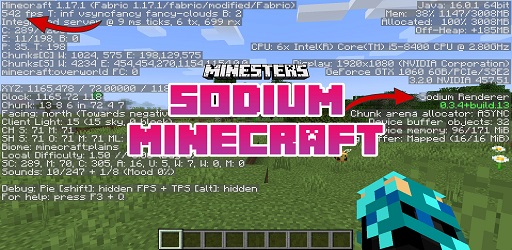 Description about Sodium Mod
Sodium Minecraft – Improve your framerate and micro-stutter with Sodium Minecraft mod
Getting that extra frame rate boost has been the dream for many low-end pc users. That is why we bring you the sodium Minecraft mod that comes to the rescue. It is a totally free render engine replacement for the Minecraft player that significantly increases frame rates, decreases micro-stutter, and resolves graphical difficulties in the Minecraft gameplay.
When compared to other mods, the Sodium Minecraft mod offers a broad range of compatibility with the Fabric mod environment and does not make any concessions to the game's visual appearance, giving you the real Minecraft gaming experience. If you are still under confusion about what to expect from the Sodium Minecraft mod, you may check for comparisons and evaluations about the mod's performance on the internet.
This mod includes features that will automatically configure itself after you have installed it, saving you the time and effort of having to do anything complicated. Once you finish installing and start the game, be sure to explore all of the options accessible to you to make your Sodium Minecraft experience more enjoyable.
This Sodium Minecraft mod is ideal for players who are using a low-end computer to play the game of Minecraft. It is the ideal technique to improve your performance while discovering new worlds. At this stage, the Sodium Minecraft mod is mostly stable, and you should have no problems when playing with it. However, in order to get the highest performance, we suggest that you utilize the most recent versions of the Sodium Minecraft mod.
Require
Note: All must use the same version
How to install Sodium Mod
Make sure you have Forge Mod installed
Search and download any mod you like on our website.
You will get the .jar file after downloading, copy the file.
Press Window + R, type %appdata%, press Enter.
Navigate to the .minecraft folder, then to the mods If you don't have a mods folder, create one, paste the .jar file inside the mods folder
Download Sodium Mod
Compatible Version
1.18.2 - 1.18.1 - 1.17.1 - 1.16.5 - 1.16.4 - 1.16.3 - 1.16.2