Tissous Zombie Pack 1.18.2 → 1.12.2
Tissou's Zombie Resource Pack for Minecraft introduces a new level of dread into the game. Anguish-inducing materials are used to generate an infinite variety of zombies.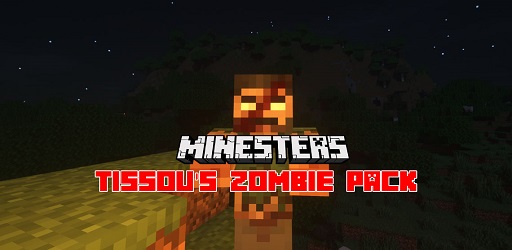 Description about Tissous Zombie Pack
Experience Terror in Minecraft with Tissous Zombie Pack
Minecraft gaming has changed through time, bringing about developments that are helpful to clever individuals who wish to experience the freshness of new gaming experiences. Tissou's Zombie Pack is a Minecraft addition that modifies just the zombie, husks, villager zombie, & drowned mobs in the game. This resource provides the game with an almost limitless amount of variety. Since this resource pack adds more than 1000 distinct textures to the game
It will not drastically alter your game's graphics, but it will provide you with hundreds of finely designed zombie graphics. It now has a wide variety of zombie skins and textures, all of which have outstanding details, and you will never see two identical zombies in the same game. It's a fantastic apocalyptic pack when combined with outstanding sound effects.
The creators of Tissou's Zombie texture pack have spent their time designing a one-of-a-kind texture pack that will make your gaming experience more enjoyable. Each zombie texture has been matched with the greatest sound effects possible by the developers. Because every audio track makes your zombie appearance more attractive, you can't ignore this fact, which results in an incredible playing atmosphere.
Optifine is a must-have for Tissou's Zombie Pack since it allows you to get the most out of the game. Optifine is required for the whole functioning of these Zombie textures. Download and install this mod to experience terror and have a great time with super realistic Zombies.
How to install Tissous Zombie Pack
Search for Minecraft resource packs or texture packs on our website and download it. The result should be a zip file.
Press Window + R to open a Run dialog, type in %appdata% then press Enter.
Navigate to the .minecraft folder, then the resourcepacks
Move the zip file you've downloaded earlier here. Finish installation
Download Tissous Zombie Pack
Compatible Version
1.18.2 - 1.18.1 - 1.18 - 1.17.1 - 1.17 - 1.16.5 - 1.16.4 - 1.16.3 - 1.16.2 - 1.16.1 - 1.16 - 1.15.2 -1.15.1 - 1.15 - 1.14.4 - 1.14.3 - 1.14.2 - 1.14.1 - 1.14 - 1.12.2