Voxelmap is a minimap mod that helps players perceive the game's real-world environments and displays the surroundings and players around them.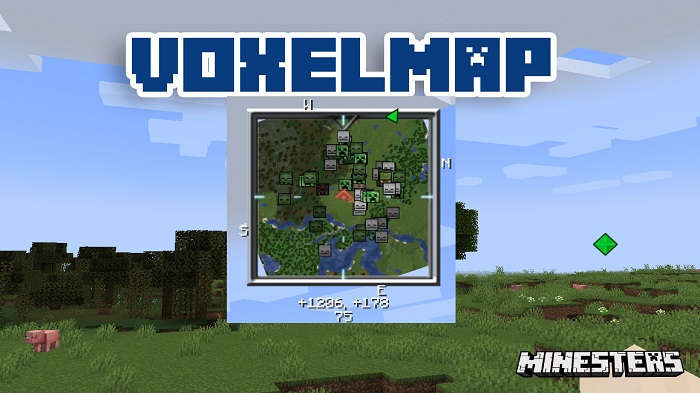 Description about Voxelmap Mod
Voxelmap – Mini Map for the Adventurers on the Minecraft World
Have you ever been upset by the absence of small maps and the lack of many maps features in Minecraft? The Voxelmap Minecraft mod assists you in your exploration of the world by presenting a small map as you go. This map differs from the default map in that it allows you to perform numerous things that are not possible on the default map. This gives the game a more realistic appearance. It's as if you're a real-life survivor who knows precisely where they're going with the assistance of a little map in hand.
VoxelMap is a highly useful minimap that shows elevation, terrain, zombies, and players on multiplayer making it much easier to play with friends. Voxel map brings essential features such as per-dimension waypoints, zombies icons, and teleport to waypoint. You can make your game experience much more engaging and enjoyable.
Dying in Minecraft is a major nuisance for all players since you will have to remember the location of your death in order to get your resources after you have died. This mod also includes waypoint support, as well as the ability to automatically mark your last location of death, so you no longer have to worry about never being able to pinpoint where you died.
This Voxelmap mod is ideal for players that want to utilize fabrics and forge to play on maps either alone or with buddies, and it is free to download. It is the ideal technique to discover new worlds without the hassle of default techniques. We recommend you download the latest versions of the mod to achieve the best result.
How to install Voxelmap Mod
Make sure you have Forge Mod installed
Search and download any mod you like on our website.
You will get the .jar file after downloading, copy the file.
Press Window + R, type %appdata%, press Enter.
Navigate to the .minecraft folder, then to the mods If you don't have a mods folder, create one, paste the .jar file inside the mods folder
Download Voxelmap Mod
Compatible Version