Wynncraft Resource Pack 1.16.5 → 1.16
Minecraft is famous for being a totally open-world free-play game. However, sometimes adding goals can make a game more exciting. That's where Wynncraft comes in.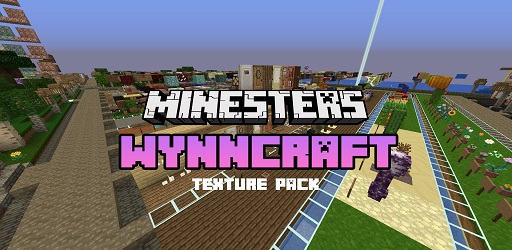 Description about Wynncraft Resource Pack
Wynncraft Resource Pack: Like Story Mode, Only Better
The Wynncraft resource and texture pack has been out since 2013. Since then, it has become the most popular Minecraft online server. It is also the largest current (as of 2022) Minecraft server. These facts alone should intrigue players into trying it out. Best of all, it's totally free to play, assuming you already own Minecraft.
The Minecraft Wynncraft resource pack is best known for being a Massively Multiplayer Role-Playing Game (MMRPG). This means that many people can play online on the same server at the same time. There are usually a few hundred players on the server at once, so you are almost sure to run into someone playing at the same time you are. Players can choose to talk to the other plays by using a chat box, or they can ignore them. It's all up to them.
One of the best things about the Wynncraft resource pack is that it creates a sort of story mode in Minecraft. Each player starts out as a level 1 character. It is only by defeating mobs and completing goals that a character can level up, unlock new items, and move on to the next goal. All the while, the Wynncraft resource pack download also gives players new items to play with and new mobs to fight. There is even an optional Wynncraft texture pack mod that players can download. This won't change how the game looks to everyone else, just whoever downloads it. Players can also download unofficial Wynncraft texture packs as well.
How to install Wynncraft Resource Pack
Search for Minecraft resource packs or texture packs on our website and download it. The result should be a zip file.
Press Window + R to open a Run dialog, type in %appdata% then press Enter.
Navigate to the .minecraft folder, then the resourcepacks
Move the zip file you've downloaded earlier here. Finish installation
Download Wynncraft Resource Pack
Compatible Version
1.16.5, 1.16.4, 1.16.3, 1.16.2, 1.16.1, 1.16