Antique Atlas 1.17.1 → 1.12.2
Antique Atlas Mod is a minimap assistance mod that looks a lot like an item map in Minecraft. You can make an Atlas and use it to have a hand-drawn styled view of the world.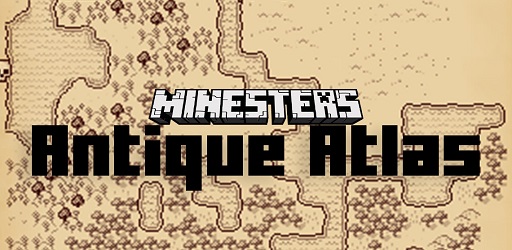 Description about Antique Atlas
Turn Your Minecraft Quest into An Ancient Game with the new Antic Atlas Map
We've all had the standard minimap since the beginning of Minecraft, and many of us have grown tired of it at some point. Because of this, Antique Atlas presents a more conventional and distinctive method to creating maps in Minecraft. The maps are less complicated, but they are quite nicely designed.
The antique Atlas seems to be pretty interesting, and it is not only laid out like a regular map, but it also has a number of different designations and allows you to create your own labels. It is anticipated that this map will create a pleasant atmosphere while also speeding up the game experience a little bit. It adds a book that maps the region around the player, with textures that are selected depending on the biome of each chunk.
Antique Atlas introduces a map object that seems to be a book but has an infinite limit, allowing you to trace your map indefinitely and with no restrictions. You may navigate the map by dragging and dropping it with your mouse, and you can zoom in and out using specific keys. Aside from that, Mod enables the option to export picture files in the PNG format, which is a very cool feature that you must definitely take advantage of.
Antique Atlas is available for a variety of Minecraft versions, including some of the most popular mod tools versions, such as Minecraft 1.7.10, 1.12.2, and 1.16.5. Make sure you download and try out this great Ancient Map feature.
Require
Fabric API
Cloth Config API (Fabric)
Note: Need to install more required mods to use the best Mods, all must use the same version
How to install Antique Atlas
Make sure you have Forge Mod installed
Search and download any mod you like on our website.
You will get the .jar file after downloading, copy the file.
Press Window + R, type %appdata%, press Enter.
Navigate to the .minecraft folder, then to the mods If you don't have a mods folder, create one, paste the .jar file inside the mods folder
Download Antique Atlas
Compatible Version
1.17.1 - 1.16.5 - 1.15.2 - 1.14.4 - 1.12.2