Aquaculture 2 Mod 1.18.2 → 1.12.2
Aquaculture 2 is an extension to the Minecraft fishing mechanism, and it is quite a substantial one. It brings more than 30 new fish into the game with new fishing items.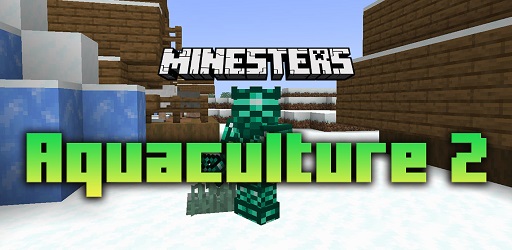 Description about Aquaculture 2 Mod
The Best Fishing Mod for Minecraft by Aquaculture 2
Aquaculture 2 is the mod for you if you like fishing in Minecraft. There are over 30 new fishes to catch as well as various rods, lines, and bobbers to personalize your fishing experience with this mod. Aquaculture 2 features lots of variety, whether you are seeking an additional challenge or simply want to harvest numerous fish. The fact that fish don't simply spawn everywhere is one of the fascinating aspects of this mod.
You'll have to throw your fish out into new biomes as an alternative. This mod adds three new rods that range from iron, gold, and diamond in appearance. When you build a tackle box, you'll be able to store baits and update the features of your fishing rod. There are also several hooks to pick from, and each will provide some unique benefits to the rod, such as increased luck, increased durability, and the flexibility to modify the way you throw to catch a range of different fish.
Neptunium is a brand-new component in Aquaculture 2. Armor, Tools, and Weapons can all be made using it. Fishing can be used to get Neptunium equipment and ingots. When you open Neptune's Bounty, new exotic drops from fishing may be discovered from this Neptunium. Obtaining the Fortune of the Sea Enchantment increases your chances of receiving Neptune's Bounty.
Fish are divided into several systems based on the kind of water they live in and the biomes in which they live. If you're looking for something a little more exciting, you may want to try a cooked fish filet. So, have some fun with the new Aquaculture 2 Mod. Make sure you download the latest version of the mod.
Require
Note: Need to install more required mods to use the best Mods, all must use the same version
How to install Aquaculture 2 Mod
Make sure you have Forge Mod installed
Search and download any mod you like on our website.
You will get the .jar file after downloading, copy the file.
Press Window + R, type %appdata%, press Enter.
Navigate to the .minecraft folder, then to the mods If you don't have a mods folder, create one, paste the .jar file inside the mods folder
Download Aquaculture 2 Mod
Compatible Version
1.18.2 - 1.18.1 - 1.18 - 1.17.1 - 1.17 - 1.16.5 - 1.15.2 - 1.14.4 - 1.12.2