Bare Bones Texture Pack 1.18.1 → 1.16.5
Minecraft was made to look simple and clean. The Bare Bones texture pack keeps with that theme, while also adding some beautiful improvements, colors, and shadows.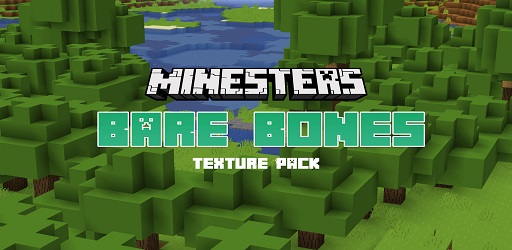 Description about Bare Bones Texture Pack
Bare Bones Texture Pack: Simple but Colorful
There is not much to say about the Bare Bones texture pack download, other than it takes the original Minecraft graphics and somehow cleans them up. All of the blocks are more distinct from each other than they are in vanilla Minecraft.
At the same time, the general shape and feel of the blocks are the same. Because of all of this, the Bare Bones resource pack is great for people who like the general look and feel of vanilla Minecraft, but who would also prefer to have the game look more basic and colorful.
Speaking of colorful, one of the most famous aspects of the Minecraft Bare Bones texture pack is how vibrant the colors are. Most of the colors in the game seem brighter and more saturated. This makes nature items look especially brighter.
However, the parts of the game that are supposed to be dark, like The End and in caves, are still very shadowy. At the same time, bright objects in dark spaces, like glow berries, torches, Enderman eyes, and spider eyes, will stand out more. This gives for an interesting contrast that a lot of other texture packs don't have.
Even though the Bare Bones texture pack download was originally made for Minecraft v.1.8.9, the pack has been consistently updated by its creator, Robotpant. As of January 2022, the pack was most recently updated to accommodate for the changes of the new Caves and Cliffs Update.
How to install Bare Bones Texture Pack
Search for Minecraft resource packs or texture packs on our website and download it. The result should be a zip file.
Press Window + R to open a Run dialog, type in %appdata% then press Enter.
Navigate to the .minecraft folder, then the resourcepacks
Move the zip file you've downloaded earlier here. Finish installation
Download Bare Bones Texture Pack
Compatible Version
1.18.1 - 1.18 - 1.17.1 - 1.17 - 1.16.5 - 1.16.4 - 1.16.3 - 1.16.2 - 1.16.1 - 1.16 - 1.12.2