Better Dogs 1.18.2 → 1.12.2
Ever wonder how to actually raise and breed dogs in Minecraft? In today's article, we will introduce to you a famous Minecraft texture pack called Better Dogs.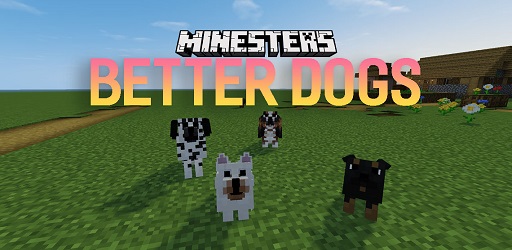 Description about Better Dogs
Better Dogs: Minecraft Texture Pack with 90+ New Dogs
Better Dogs is a new-age Minecraft texture pack that allows you to breed the wolf in Minecraft and transform them into different dog species. With over 800,000 downloads just in a year, Better Dogs texture pack did a great job by adding over 30+ dog breeds, and the great thing is each of them contains a lot of variations, making Better Dogs Minecraft become the best texture pack for dog lovers with 90+ types of dog.
Not only just adding a new name and rules to breed for each species, the Better Dogs resource pack also include custom models for every single one of them. So you can just have a huge Bernese Mountain dog to a tiny Chihuahua dog. When you have tamed a wolf, it will randomly transform into one of the dog breeds. And when you have two of them, just simply breed them together to create another species.
Better Dogs texture pack Minecraft also adds three types of dog breeds in the Nether. They are Cerberus, Skeleton dog, and Wither skeleton dog. They all have unique appearances and totally worth your time to breed. And if you're looking for fun, Better Dogs Minecraft resource pack did have two more custom dog breeds to try out, they are Chimpanzee and Dragons. Yes, a dragon! Better try that out!
The only difficult thing when installing the Better Dogs Minecraft texture pack is you need to install extra mods. You know it's coming since Minecraft texture packs tend to change only the models or textures of the game, not change the gameplay. That's why you need to install Fabric, Custom Entity Models, Cloth Config API, CompleteConfig, Entity Texture Features, Mod Menu, Puzzle, and Fabric API mod. You can install Lithium or Sodium for an extra FPS boost, but it's not required.
Require
Note: Download Optifine HD to be able to use Shaders, the version used must be the same for the best Shaders experience.
How to install Better Dogs
Search for Minecraft resource packs or texture packs on our website and download it. The result should be a zip file.
Press Window + R to open a Run dialog, type in %appdata% then press Enter.
Navigate to the .minecraft folder, then the resourcepacks
Move the zip file you've downloaded earlier here. Finish installation
Download Better Dogs
Compatible Version
1.18.2 - 1.18.1 - 1.18 - 1.17.1 - 1.17 - 1.16.5 - 1.16.4 - 1.16.3 - 1.16.2 - 1.16.1 - 1.16 - 1.15.2 -1.15.1 - 1.15 - 1.14.4 - 1.14.3 - 1.14.2 - 1.14.1 - 1.14 - 1.12.2