Clear Glass Texture Pack 1.18.1
If you're a Minecraft veteran, you know how bad the glass texture displays in Minecraft. So today, I'll introduce to you a Minecraft Clear Glass texture pack.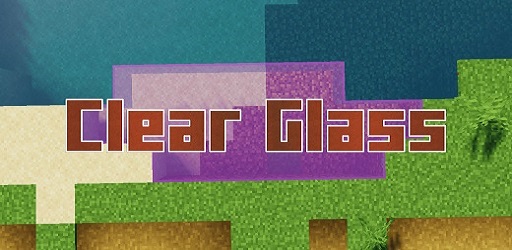 Description about Clear Glass Texture Pack
Clear Glass Texture Pack: A Wonderful Minecraft Connected Texture
If you're a Minecraft veteran, you will know how frustrating and ugly the glass texture displays in Minecraft. That's why today, I'll introduce to you an awesome Minecraft texture pack called "Minecraft Clear Glass".
1. The Story of Clear Glass Texture Pack
Back in the day, many Minecraft players joined the world and started playing Minecraft in their own way. They chopped wood, went mining, and built for themself a starter house.
The starter house involve each year. From a cheap dirt hut to a normal basic house with a wooden wall, a door, and a ceiling. The final form is when they're adding a window to the base. To be able to see the surrounding area without going outside.
But you know what? Even when they're building the window with the most transparent block - the Glass block, it is still not 100% clear to see through the wall. Because the texture of the glass block has a reflection on it, making it super hard to see through.
When Minecraft 1.7 came out, people are super excited about a new variant of the glass block, which is called "Stained Glass block". These new blocks are super clean and you can even dye them. However, the texture still has some reflection on it.
2. Clear Glass Minecraft Texture Pack
Throw away all the frustrations, the Minecraft community has come up with an idea! They created a custom Minecraft resource pack and put a lot of effort into it to remove the reflection of the Glass blocks in Minecraft.
And that's how the Clear glass resource pack was created! This texture pack is super light and it's not affecting your performance at all. So I'd recommend trying this resource pack out, especially if you're a builder.
You can even use this pack with other resource packs as well! So if you really fell in love with another texture pack like Patrix, you can apply this resource pack over the origin pack and it still brings the same effect.
Everything has its own pros and cons. So does the clear glass in Minecraft! Let's go through this Minecraft clear glass texture to see why people like it, or do not even care about it at all!
1. Pros
Makes the Glass, Ice, and Stained Glass texture to be super clean
Makes Minecraft world look better with texture connected feature
Can use with other Minecraft texture packs
2. Cons
Destroy the original Minecraft glass texture
Can be used for bad purpose. Some players use clear glass to look through a wall and take advantage of it.
Not many texture packs support connected texture, so it will limit the combination with other resource packs
You may need to install Optifine for the best effect
3. Should You Use Clear Glass Resource Pack?
Well! With a lot of benefits come from this resource pack, I think this is worth a try. You may use another resource pack for now, but no worry! You can just apply this clear glass texture pack over the one you're using and it still works!
Let's try this, Minecraft builders!
How to install Clear Glass Texture Pack
Search for Minecraft resource packs or texture packs on our website and download it. The result should be a zip file.
Press Window + R to open a Run dialog, type in %appdata% then press Enter.
Navigate to the .minecraft folder, then the resourcepacks
Move the zip file you've downloaded earlier here. Finish installation
Download Clear Glass Texture Pack
Compatible Version