Corail Tombstone Mod 1.18.2 → 1.12.2
There are many grave or tombstone Minecraft mods out there that do the same function. But what is special about Corail Tombstone? We'll find it out!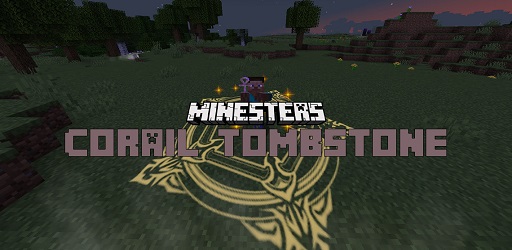 Description about Corail Tombstone Mod
Corail Tombstone: Minecraft Mod with Fantasy Medieval Graves
Corail Tombstone is an old mod that was made in 2016 by Coral and it's getting constantly updated all the way to 2022. With over 30,000,000 downloads, the Corail Tombstone mod did a great job with an old concept that many other Minecraft mods have already did. A tombstone will be created exactly where you died with all of your items and experience contained in it. Interesting, right?
Many people love concepts so much since they do not like when their items are just splashed all over the place and disappear after a short time. When you've died with Minecraft Corail Tombstone installed, you will be given a grave key, this will lead you to where you died and only you can use it to open your grave to get your stuff back. Also, when you died, you will have a custom potion effect called Ghostly Shape, this will prevent any mobs from attacking you.
With enough materials, you can even upgrade the key in Corail Tombstone Minecraft and instantly teleport to where you died, pretty convenient! Besides the core features, Corails Tombstone also provides decoration blocks like a lot of custom graves and tombstones, especially the decorative graves. They can spread the fog at night and can be haunted by a soul. If you want to build a haunted house, this mod is what you need!
Corail Tombstone Minecraft mod has its own advancement tab! Each time you complete one, you will be rewarded with a decorative grave. With that being said, Corail Tombstone works really well on the server side, so if you want to play with your friends and spook them, give this mod a try!
Require
Note: Need to install more required mods to use the best Mods, all must use the same version
How to install Corail Tombstone Mod
Make sure you have Forge Mod installed
Search and download any mod you like on our website.
You will get the .jar file after downloading, copy the file.
Press Window + R, type %appdata%, press Enter.
Navigate to the .minecraft folder, then to the mods If you don't have a mods folder, create one, paste the .jar file inside the mods folder
Download Corail Tombstone Mod
Compatible Version
1.18.2 - 1.18.1 - 1.17.1 - 1.16.5 - 1.14.4 - 1.12.2