Depixel Texture Pack 1.18.2 → 1.12.2
Ever look for a Minecraft texture pack that has the same mood as the vanilla theme? Today, we present to you a beautiful and smooth one, called Depixel!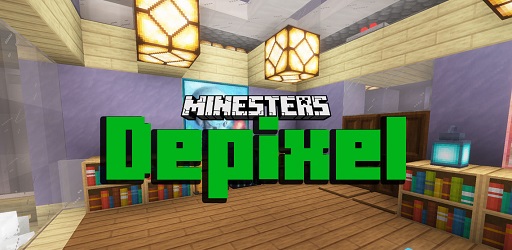 Description about Depixel Texture Pack
Depixel: Upgraded Version of Vanilla Minecraft Texture Pack
Depixel is a smooth Minecraft texture pack that still keeps the texture of most blocks the same as the vanilla theme. As other Minecraft texture packs improve either the realism or resolution, they also change the overall theme of the texture so much until a point you cannot recognize which item you're using. But it's not the case for the Depixel texture pack!
Every block and item in the Depixel Minecraft texture pack has the same color and model just like vanilla Minecraft. But they're much cleaner because you don't see any pixels clearly. Even though the resolution of the Depixel resource pack is only 32x32, the pack still provides a polished look by reducing noise in the texture and also improving the color a little bit to make the block look more gorgeous, especially in the sun when using shaders. You may find the same effect with the Faithful texture pack!
Minecraft Depixel texture pack also has a lot of cool features like making the sun and moon to be a cube shape or making crops look more 3D and a lot more aesthetic. Depixel also supports custom mob animations and randomized textures for mobs. For example, the camo creepers feature will make them spawn with the skin exactly the same as the block they are in. So watch out for sudden explosion! Just remember to install Optifine to configure more features like the connected texture feature and texture randomize!
Since the texture is so clean and the resolution is not that high, Depixel 1.17 is also being used by a lot of PVP-er. Tools, weapons, and especially armors in the Depixel PVP texture pack look really cool but still have the vanilla concept in them.
How to install Depixel Texture Pack
Search for Minecraft resource packs or texture packs on our website and download it. The result should be a zip file.
Press Window + R to open a Run dialog, type in %appdata% then press Enter.
Navigate to the .minecraft folder, then the resourcepacks
Move the zip file you've downloaded earlier here. Finish installation
Download Depixel Texture Pack
Compatible Version
1.18.2 - 1.18.1 - 1.18 - 1.17.1 - 1.17 - 1.16.5 - 1.16.4 - 1.16.3 - 1.16.2 - 1.16.1 - 1.16 - 1.15.2 - 1.15.1 - 1.15 - 1.14.4 - 1.14.3 - 1.14.2 - 1.14.1 - 1.14 - 1.12.2