Dramatic Sky Texture Pack 1.18.1 → 1.12.2
Dramatic Sky is a free expansion that adds High-definition clouds and lightning to your game's sky. The Dramatic Sky texture pack will enhance your experience.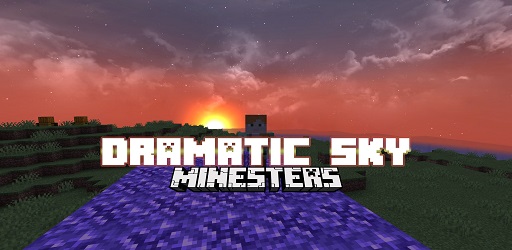 Description about Dramatic Sky Texture Pack
Dramatic Sky – Enhance the Appearance of your Minecraft Sky
Players have become tired of Minecraft's default appearance, so they search for a variety of modifications and texture packs, sometimes overlooking the greatest one. There are several reasons why the Dramatic Sky Texture Collection stands apart from any other resource pack.
The primary feature of this texture pack is that it will not attempt to modify the game's overall aesthetic but instead focus on the sky, making it more realistic and providing a great game experience. With this pack, the in-game sky will seem better, more natural, and basically one step ahead of what it appeared to be before it was applied.
One outstanding characteristic of this package is that it has been extensively optimized. Normally, this would have been thought that operating a similar pack would need the use of a high-end computer. However, this is not the case in this instance. This package will function smoothly and without any glitches, even on low-end computers.
This pack will be quite different from other packs since it has a lot of skies. The sky in each region will be unique due to the fact that the Minecraft biomes determine how colorful it is. At night, the Milky Way will then be visible in the desert, but there will be clouds in the mountains, and the sky will be covered. The whole player-base can enjoy it without any problems whatsoever.
Require
Note: All must use the same version
How to install Dramatic Sky Texture Pack
Search for Minecraft resource packs or texture packs on our website and download it. The result should be a zip file.
Press Window + R to open a Run dialog, type in %appdata% then press Enter.
Navigate to the .minecraft folder, then the resourcepacks
Move the zip file you've downloaded earlier here. Finish installation
Download Dramatic Sky Texture Pack
Compatible Version
1.18.1 - 1.18 - 1.17.1 - 1.17 - 1.16.5 - 1.16.4 - 1.16.3 - 1.16.2 - 1.16.1 - 1.16 - 1.15.2 - 1.14.4 - 1.14.3 - 1.14.2 - 1.14.1 - 1.14 - 1.12.2