Fresh animations Texture Pack 1.18.1 → 1.16
Some mob movements look a little jarring or just plain boring. The Fresh Animations texture pack makes the movements smoother and adds special effects to some mobs.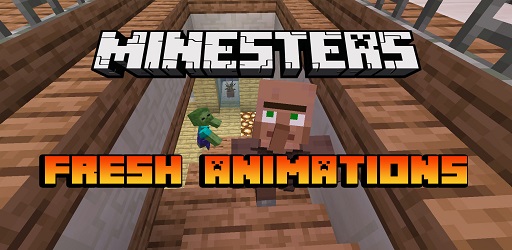 Description about Fresh animations Texture Pack
Fresh Animations Resource Pack: New Mob Movements
The Fresh Animations Minecraft resource pack mostly focuses on how the mobs look and act. This pack affects friendly, passive, and hostile mobs. The changes on most of the mobs are pretty minor, but it's the little details that matter. For example, the Fresh Animations texture pack has changed the way most four and two-legged mobs walk, stand, run, and swim. All of the mobs can also blink now!
Some mobs have added movements. For example, the chickens can fly a little bit up in the air and float or glide. The cow's udder are animated; on mooshrooms, the mushrooms also have additional animation. Foxes can crouch and pounce, dolphins can jump into the air and do a barrel roll, and Villagers/Illagers have better swimming mechanics. All in all, there are little tweaks to all the mobs that players can have a fun time looking for.
Players will need to download OptiFine for the Fresh Animations resource pack to work. With OptiFine installed, players will also need to use the OptiFine Custom Entity Models. From there, players can download the Fresh Animations texture pack for free. If players are having any problems, they should make sure the following video settings are turned on: Custom Entity Models, Random Entities, and Emissive Textures.
As of January 2022, the Fresh Animations resource pack is still a work in progress. It was created by FreshLX_official on March 5, 2021. The most recent update (FreshAnimations_v1.5) was released on November 8, 2021. Since FreshLX_official is still working on the pack, players can expect regular updates in the foreseeable future.
How to install Fresh animations Texture Pack
Search for Minecraft resource packs or texture packs on our website and download it. The result should be a zip file.
Press Window + R to open a Run dialog, type in %appdata% then press Enter.
Navigate to the .minecraft folder, then the resourcepacks
Move the zip file you've downloaded earlier here. Finish installation
Download Fresh animations Texture Pack
Compatible Version
1.18.1 - 1.18 - 1.17.1 - 1.17 - 1.16.5 - 1.16