FullBright 1.18.2 → 1.12.2
Fullbright is a new Minecraft texture pack with the only unique feature, to overall improve the brightness of the game so you can see everything clearly in the dark.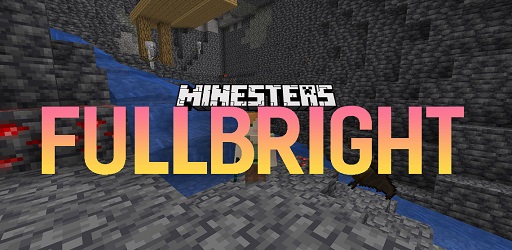 Description about FullBright
FullBright: Permanent Night Vision Effect Minecraft Texture Pack
Fullbright is a new Minecraft texture pack with a useful feature, to overall improve the light level of the game when it's dark. With over 200,000 downloads just in 6 months, the Fulbright texture pack gives awesome experiences to most Minecraft players, especially for those speedrunners and miners. There are two popular versions of Fullbright for now, FullBright texture pack 1.18 and FullBright texture pack 1.17.
If you're at night or in the cave in Minecraft, you know how terrifying it's since you can barely see anything. Both the light level and the brightness will be completely dark, but with FullBright Minecraft, the brightness is overhauled so everything becomes much brighter. This is the same effect as when you drink a potion of night vision. This effect lasts forever, as long as you still install and use the texture pack. And you can even see clearly at the End and Nether biome.
If you think Minecraft Fullbright will break the basic mechanic of the game, you're wrong! Bright Texture only improves the visual effect of the brightness of your game and does not affect the actual light level system at all. That means you can see blocks bright, but mobs are still able to spawn as well. Most Minecraft servers allow this Full Bright texture pack, but make sure to ask before you use it since this is still considered a game-breaking feature.
How to install FullBright
Search for Minecraft resource packs or texture packs on our website and download it. The result should be a zip file.
Press Window + R to open a Run dialog, type in %appdata% then press Enter.
Navigate to the .minecraft folder, then the resourcepacks
Move the zip file you've downloaded earlier here. Finish installation
Download FullBright
Compatible Version
1.18.2 - 1.18.1 - 1.18 - 1.17.1 - 1.17 - 1.16.5 - 1.16.4 - 1.16.3 - 1.16.2 - 1.16.1 - 1.16 - 1.15.2 -1.15.1 - 1.15 - 1.14.4 - 1.14.3 - 1.14.2 - 1.14.1 - 1.14 - 1.12.2