HD Flows bring you to the modern Minecraft world with vibrant and vivid colors. It provides a clean texture without modifying too much of the original Minecraft look.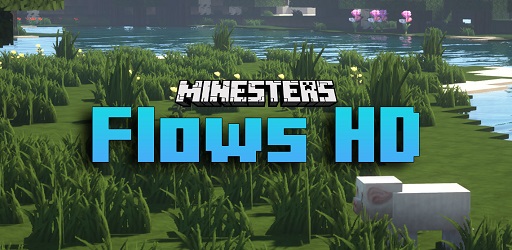 Description about HD Flows
HD Flows: Modern and Elegant Minecraft Texture Pack
HD Flows bring you to the modern Minecraft world with vibrant and vivid colors. The pack was created and developed over time by five different people and it's been a huge success over the last three years. Flows HD texture pack provides a clean, organic, and elegant texture without modifying too much into the original Minecraft appearance.
With Flows HD installed, you can have different feelings while exploring the world. If you come across the ocean with overgrown seagrass, you may feel overwhelmed by how realistic the grass is. Or if you're mining deep down underground in the Minecraft Flow HD, you can see vibrant the cave is since the block pallet is much brighter, but somehow it's also dirty and fit the theme so well!
With all of that being said, the Flow texture pack suit the modern and futuristic style the most since most of the interior blocks are now look so contemporary. All together create an intensive and polished look to the world! Especially if you're a farmer, all crops in the game just become super good! You can see how full the wheat grows and so on! And when it's come to the painting, the Flow HD texture pack provides a modern art style so you can furthermore decorate your house with them.
Flows HD resource pack may look a little bit dark in the night if you don't have any light source and use a shader. Also, the custom sky with sun and moon is breathtaking, while you can slowly see the cloud moving across the atmosphere.
Although Flows HD Minecraft texture pack only has two resolution versions, which is 64x and 128x, the pack is still lightweight and can be used for most medium computers, and some weak ones as well. If you're having trouble playing with the Minecraft Flow texture pack, try installing Optifine, and reducing some settings can help you a lot!
Combine with Shaders
Best Texture Pack experience recommend using Shaders
How to install HD Flows
Search for Minecraft resource packs or texture packs on our website and download it. The result should be a zip file.
Press Window + R to open a Run dialog, type in %appdata% then press Enter.
Navigate to the .minecraft folder, then the resourcepacks
Move the zip file you've downloaded earlier here. Finish installation
Download HD Flows
Compatible Version
1.18.2 - 1.18.1 - 1.18 - 1.17.1 - 1.17 - 1.16.5 - 1.16.4 - 1.16.3 - 1.16.2 - 1.16.1 - 1.16 - 1.15.2 -1.15.1 - 1.15 - 1.14.4 - 1.14.3 - 1.14.2 - 1.14.1 - 1.14 - 1.12.2