Invisible Item Frame 1.18.1 → 1.12.2
Invisible Item Frame makes the model of Item Frame without changing the parent texture applied to the item frame. Ideal for adding unique design elements.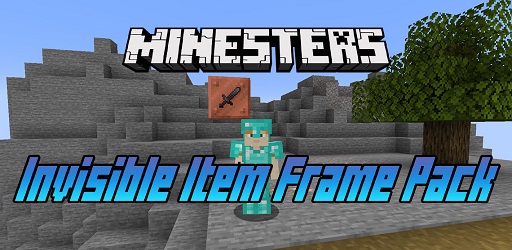 Description about Invisible Item Frame
Invisible Item Frame – Showcase Your Items In Invisible Frames
All of you must have once wished to showcase your items and stuff in your home and buildings. Minecraft's invisible frames are ideal for adding decoration to walls without any hassle. In this mod, players are given the ability to display their objects on walls without the requirement to construct a physical frame first.
When the object is done, it will simply be hung on the wall. If a player has a favorite weapon or piece of armor they'd want to show off, invisible frames are a great option. Unlike other Minecraft blocks, which cannot be made invisible simply by retexturing them, the Item Frame block may be made invisible with this texture pack by changing the model of the block.
Since the frames will no longer be there, any item may now be used to enhance any interior. If you often use frames in your work, then the Invisible Item Frame is the perfect choice for you. In Minecraft, objects look well with almost any kind of interior design, so make full use of them whenever possible.
Not only is the functionality of the new frames impressive, but the Invisible Item Frame is also very user-friendly in terms of design. You may use them to design your home, and they will blend in nicely with the style you choose, which is particularly true for more modern designs. Make sure you put all your precious belongings on display.
How to install Invisible Item Frame
Search for Minecraft resource packs or texture packs on our website and download it. The result should be a zip file.
Press Window + R to open a Run dialog, type in %appdata% then press Enter.
Navigate to the .minecraft folder, then the resourcepacks
Move the zip file you've downloaded earlier here. Finish installation
Download Invisible Item Frame
Compatible Version
1.18.1 - 1.18 - 1.17.1 - 1.17 - 1.16.5 - 1.16.4 - 1.16.3 - 1.16.2 - 1.16.1 - 1.16 - 1.15.2 -1.15.1 - 1.15 - 1.14.4 - 1.14.3 - 1.14.2 - 1.14.1 - 1.14 - 1.12.2