Misa's Realistic Texture Pack 1.18.2 → 1.12.2
If you're a fan of realistic Minecraft texture packs, you may have heard about Misa's Realistic! It includes realistic textures with randomized skins for mobs.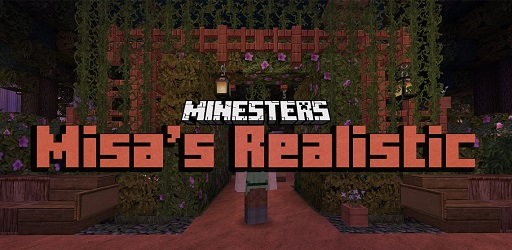 Description about Misa's Realistic Texture Pack
Misa's Realistic Texture Pack: Dark Medieval Pack for Minecraft
If you're a fan of realistic Minecraft texture packs, you may have heard about Misa's Realistic! To sum it up, Misa's Realistic Texture Pack has over 260,000 downloads with a lot of high-quality features that include a 64x64 resolution realistic texture, random skins for mobs and creatures, and the overall medieval theme that fit so well with the Minecraft gameplay itself. With that being said, let's dis further into the Misa texture pack!
Misa Realistic texture pack is designed to emphasize the realism aspect of the images, but it's not going over the top like other realistic texture packs. Instead, it's kinda in a semi-realistic style with the atmosphere of some old RPG medieval games. You can find Misas Realistic Texturepack is easy to the eyes since every block and item is a little bit darker. And when put them next together, they create some cool patterns that you may want in your builds.
Misa's Realistic Pack also has tons of variations for blocks in Minecraft. For example, you can expect to encounter a lot of different zombies with different outfits and heads. Or if you breed and raise a pigpen, you will see at least 4 different pigs in your pen. Talking about realism, Misa's Texture pack has cool textures and models for plants and ores in Minecraft. You can see the actual red grass grow from the Nylium block, the amethyst sticks out from the amethyst block, or the lily pad and cattail floating in the swamp.
When use with any Minecraft Shaders, Misa's Realistic resource pack even look fancier. The light and shadow from the shader combined with the realism of the world just make you want to immerse yourself into the pack and beat the game. So no more talking, since Misas Realistic resource pack only supports a 64x64 resolution, it may affect your performance a little bit if you're using a low spec computer. So remember to install Optifine, either to increase your FPS or to further configure the Misa resource pack options to make it more realistic!
How to install Misa's Realistic Texture Pack
Search for Minecraft resource packs or texture packs on our website and download it. The result should be a zip file.
Press Window + R to open a Run dialog, type in %appdata% then press Enter.
Navigate to the .minecraft folder, then the resourcepacks
Move the zip file you've downloaded earlier here. Finish installation
Download Misa's Realistic Texture Pack
Compatible Version
1.18.2 - 1.18.1 - 1.18 - 1.17.1 - 1.17 - 1.16.5 - 1.16.4 - 1.16.3 - 1.16.2 - 1.16.1 - 1.16 - 1.15.2 -1.15.1 - 1.15 - 1.14.4 - 1.14.3 - 1.14.2 - 1.14.1 - 1.14 - 1.12.2