PureBDcraft Texture Pack 1.18.1
There is a large overlap of the people who love both video games and comic books. With the PureBDcraft mod, players can have the best of both these worlds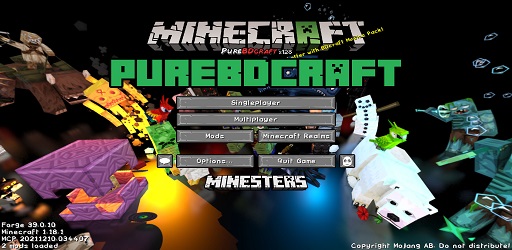 Description about PureBDcraft Texture Pack
PureBDcraft: Comic Book Textures Brought to Life
The creators behind the Sphax PureBDcraft did their best to make Minecraft look as much like a modern-day comic book as possible. They do this by somewhat flattening the objects and adding hints of new colors to shade the items differently. Many of the colors are a bit darker, but more vibrant than in vanilla Minecraft.
Players can download the most recent version of the PureBDcraft texture pack (1.18) in several different resolutions: 16x, 32x, 64x, 128x, 256x, and 512x. The higher resolution a player uses, the more like a comic book the game will look. The lower the resolution the player uses, the more like vanilla Minecraft the game will look. Most blocks in the game, even with the PureBDcraft resource pack installed, will still have a cube-shape. Plants are the main exception to this rule; players can even download a leaf add-on to make the plants look more like a comic book page.
If the base PureBDcraft texture pack doesn't have everything players want, there are several add ons players can use. Some addons will require players to download and install OptiFine and have a Nvidia 10 series or better graphics card. Some of the coolest add ons include the Damaged Items, which makes weapons and tools look more damaged as you use them; and the Customize add-on, which allows you to pretty much customize anything in the PureBDcraft Minecraft mod.
The PureBDcraft download is free for anyone to use. It has been updated to work all the way up to Minecraft 1.18. The add ons are also free. Players can also buy things from the official PureBDcraft website to add more to their games or to give some gamer swag in real life, but paying for that is not required to be able to download the basic PureBDcraft resource pack.
How to install PureBDcraft Texture Pack
Search for Minecraft resource packs or texture packs on our website and download it. The result should be a zip file.
Press Window + R to open a Run dialog, type in %appdata% then press Enter.
Navigate to the .minecraft folder, then the resourcepacks
Move the zip file you've downloaded earlier here. Finish installation
Download PureBDcraft Texture Pack
Compatible Version
1.18.1 - 1.18 - 1.17.1 - 1.17 - 1.16.5 - 1.16.4 - 1.16.3 - 1.16.2 - 1.16.1 - 1.16 - 1.15.x - 1.14x - 1.13.x - 1.12.x - 1.11.x -1.10.x