Purpled Texture Pack 1.18.1 → 1.12.2
The Purpled texture pack is a remake of the popular Purple 16x pack. If you love the color purple or the YouTuber Purpled, you are sure to love this pack.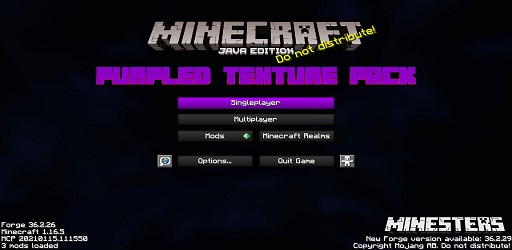 Description about Purpled Texture Pack
Purpled Texture Pack: A More Purple World
The Purpled texture pack was created by the YouTuber, Purpled, in January 2021. As of February 2022, updated to the latest version 1.18.1. However, it's not a super complicated pack, so there's not much to update. All in all, the Purpled resource pack is best described as a pack that adds a little more color to the world-- that color being purple.
The main theme of the Purpled mod pack is that there are simply more purple items in the game. Purpled added purple bedsheets, weapons, and armor. The health bar hearts are also purple. However, the color of the blocks and other items in the game did not change color. There are no new purple blocks, just added color customization options when making items.
As mentioned, the weapons, armor, and tools can all be made in purple. In addition, Purpled's texture pack has some slight visual changes to the armor as well. So even players do not choose to use the purple armor, it will still look a little different than the basic vanilla Minecraft clothes. Probably the coolest thing about the weapons is the added purple half-sword. It's basically just a dagger, but it looks really cool.
Another odd feature of the Purpled texture pack is that it is always nighttime. However, this just means that it is always dark. For whatever reason, the sun and moon still come up. Then again, the "sun" in this pack doesn't look like the sun. Instead, the sun is a giant purple Creeper head. Purpled hinted in one of his videos that he may go on to add an update where the moon is also changed to something else.
The Purpled texture pack is totally free to download. It works best on Minecraft version 1.8 or lower. No other texture packs are required to make it work.
How to install Purpled Texture Pack
Search for Minecraft resource packs or texture packs on our website and download it. The result should be a zip file.
Press Window + R to open a Run dialog, type in %appdata% then press Enter.
Navigate to the .minecraft folder, then the resourcepacks
Move the zip file you've downloaded earlier here. Finish installation
Download Purpled Texture Pack
Compatible Version
1.18.1 - 1.18 - 1.17.1 - 1.17 - 1.16.5 - 1.16.4 - 1.16.3 - 1.16.2 - 1.16.1 - 1.16 - 1.15.2 - 1.14.4 - 1.14.3 - 1.14.2 - 1.14.1 - 1.14 - 1.12.2