Quadral Texture Pack 1.18.2 → 1.16.5
If you're a fan of bright and vibrant colors with a crisp design, the Quadal texture pack is for you! Let's enjoy the simplistic and rustic in this texture pack!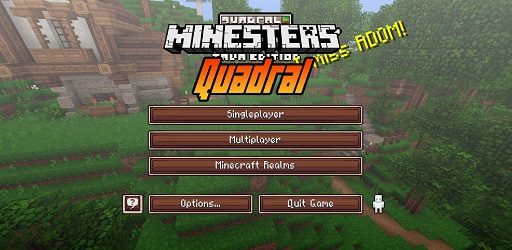 Description about Quadral Texture Pack
Quadral Texture Pack: Simplistic Minecraft Texture Pack for 1.18.2, 1.18.1
When it comes to the simplistic theme in the Minecraft texture pack, Quadral is one of the first texture packs that make it on the list. With bright and vibrant colors, combined with the crisp design in a 16x16 texture, the Quadral texture pack brings you to a whole new world in Minecraft where everything just looks so rusty, but beautiful. If you're a fan of Terraria, you can find the similarity between it and this texture pack.
Although the resolution of Quadral Minecraft is only 16x16, you can still feel the details in every block and how they connect with each other. And with almost half a million downloads is quite impressive for a small texture pack like this. On another hand, the Quadral resource pack also contain custom texture for most of the items in the game. You can see how every items fit in so well with each other to create a complete texture pack. With the Minecraft Quadral texture pack, you can see the world as seniority as it was in the medieval age. Or it's cartoonish, depending on how you feel!
The latest version of this resource pack is Quadral texture pack 1.18.2, 1.18.1, which you can find in the download link below!
How to install Quadral Texture Pack
Search for Minecraft resource packs or texture packs on our website and download it. The result should be a zip file.
Press Window + R to open a Run dialog, type in %appdata% then press Enter.
Navigate to the .minecraft folder, then the resourcepacks
Move the zip file you've downloaded earlier here. Finish installation
Download Quadral Texture Pack
Compatible Version
1.18.2 - 1.18.1 - 1.18 - 1.17.1 - 1.17 - 1.16.5 - 1.12.2