Realistico Texture Pack 1.12.2
Realistico is a custom Minecraft resource pack in the high resolution and realism category. It's created by Matteo Rizzo and has over 1.7+ million downloads.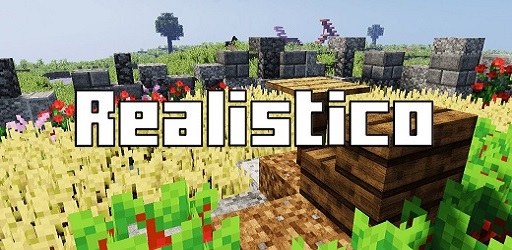 Description about Realistico Texture Pack
Realistico: A Super Realistic Texture Pack by Matteo Rizzo
Minecraft is a survival sandbox game and was released in 2009. It gains popularity by having friendly gameplay as well as a simple look. Believe me, you actually look at pixels while playing Minecraft.
But when you play enough, Minecraft looks more boring and repetitive over time. That's why many people choose to install texture packs, resource packs, plugins, or modpacks. So today, I will introduce the most realistic texture pack called "Realistico".
1. Realistico Texture Pack
Realistico is a custom Minecraft resource pack in the high resolution category. It's created by Matteo Rizzo and has over 1.7+ million downloads. Realistico also has an over 4 stars rating with over 20000+ votes. So what makes it different than other realistic Minecraft resource packs? Let's find out!
First of all, do you wondering what are realistic resource packs in Minecraft? Basically, it's a texture pack (or a resource pack) but with a super high resolution and high quality realistic textures.
The Minecraft default resource pack only has 16x16 resolution, when a custom texture pack for Minecraft can have up to 1024px. So a realistic texture pack usually comes with a 128+ resolution for better effects.
But what is the 16x16? Well, you can imagine that you have a paper with only 16 squares, and you can only fill one color for each square. Can you make something good from it? No? So how about a 1024x1024 platform? You get it!
Realistico resource pack not just amplifies how the block looks, it also includes so many details and even a custom noise map. Making some blocks awesome than ever! You can see the leaves block actually has a branch or an ore block has a mineral sticking out of it. Insane!
2. Realistico Minecraft Version
Different than most other Minecraft realistic resource packs, which are premium and you have to pay to use the pack. Realistico offers two versions, one of them is for free and for the other, you have to pay 2,99 to 9,99 euro per year.
The price is super cheap, even you're in school or a college student. And it's per year, so 0.008 to 0.027 euro per day and you can enjoy this realistic resource pack instantly!
If you're a Minecraft Bedrock edition player, please read the instruction carefully and not buy the Realistico texture pack right away! Since it's impossible to develop shaders for the Bedrock version for now. So if you're really into this pack, you must either wait or take part in a vote in the Minecraft community to make it real.
1. Realistico Lite Version
Free things usually come with bad quality, right? But not for this texture pack. Matteo is an awesome guy! He gives us the chance to try this pack for free with an already high resolution version, which is 128x128.
At first glance, it's not enough to compare to other paid versions. But hey, did you know that over 70% of Minecraft resource packs only have up to 64x64 resolution? So the Realistico Lite version is free and even x2 the resolution!
Realistico lite version also supports normal maps and specular maps. So what are those? Normal maps are just like what it called. It's an image apply to a 3D object to make the block has the texture, and the detail of the block depends on the detail of the image.
On another hand, specular maps are also an image, but it's used to define the shininess of the object. To make it interact with the lighting system in Minecraft, and when you're using Shaders. Really cool, right? But consider this because specular maps will drop your FPS.
The only thing that people don't like about the free version of Realistico is, you can only have access to the block textures, but not items. So just imagine seeing the wonderful world, but the items in your inventory, or in hand, are just ugly as the default Minecraft texture pack.
2. Realistico Full Version
How much do you willing to pay for a Minecraft resource pack?
For 2,99 euro you can get the 256x version
For 4,99 euro, you can get the 512x version
For 9,99 euro, you can get the 1024x version
The only difference between the 3 packages is the texture resolution, all other features remain the same. They include full-featured, normal maps, specular maps, parallax occlusion, Optifine features, updates included, and ad-free.
With parallax occlusion, the world now feels much more alive since you can see how the water moves up and down, the grass swinging in the windy sky, and even more!
Combine with Optifine, you will be able to change the specific settings of the game. So if you have a super good computer, you can go to Video and Quality settings, turn everything on and enjoy the realistic world of Minecraft.
And to achieve the best effect, which is like the screenshot on the Realistico homepage, you must install Shaders one way or another. Sildurs, BSL, or Complementary shaders are recommended.
3. Realistico Texture Pack Download
To install Realistico, I'd recommend having a strong enough computer. Even for the Lite version of Minecraft Realistico texture pack. And if you want to download the Realistico full free, You can find the download links below!
For the Realistico full version download, please visit the Matteo Rizzo page and buy it! Since it's the only way to get the Realistico full texture pack, and you also support the creator so he can update this resource pack more often.
You can use Realistico at any 1.12+ version, but in order to get the best experience, consider installing these versions: Realistico 1.12.2 or Realistico resource pack 1.17.
How to install Realistico Texture Pack
Search for Minecraft resource packs or texture packs on our website and download it. The result should be a zip file.
Press Window + R to open a Run dialog, type in %appdata% then press Enter.
Navigate to the .minecraft folder, then the resourcepacks
Move the zip file you've downloaded earlier here. Finish installation
Download Realistico Texture Pack
Compatible Version
1.12.2 - 1.11.2 - 1.10.2 - 1.9.4 - 1.8.9