Tightfault Revamp Edit 1.18.1 → 1.16.5
Tightfault is a Minecraft texture pack that heavily focuses on boosting the FPS and modifying to PVP-related items, making it even better for PVP players.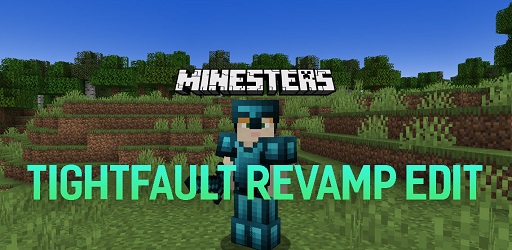 Description about Tightfault Revamp Edit
Tightfault Texture Pack: Minecraft Best PVP Texture Pack
Tightfault is a Minecraft texture pack that was created by Tight. With the overall purpose is to simplify things to boost and maximize the FPS, the Tightfault texture pack did a good job when while still remain the vanilla feel in each block and item in Minecraft.
Tightfault revamp pack is an upgraded version of the original Tightfault pack, which was created by karmette. Both versions still remain the 16x resolution and vanilla friendly, that's one reason this pack is popular because the lower the resolution, the better your FPS will be. And still, despite the fact Tightfault Revamp is at 16x resolution, the texture is still looking good and we could say that it's somehow better than the vanilla items. For example, the sword is shorter but cleaner.
Because the main purpose of Revamp texture pack is to boost the FPS, most PVP players are feeling in love with this. Even Technoblade, a famous Minecraft Youtuber is using this pack! With that being said, you can feel amazing changes to most of the PVP items like swords and bows in the Minecraft Tightfault texture pack. However, that's not the case for the others. Like some of the non-PVP items are too plain and do not fit so well into the game. For example, all ore blocks have a border around them and most players don't like it.
The great thing about the Tightfault PVP texture pack is it's getting constantly updated. It only takes 1-2 months for the texture pack owner to keep up with the Minecraft update. So if you're a fan of Tightfault texture pack Minecraft, congratulation! And don't forget to can install Optifine to boost your FPS even more while using Tightfault!
How to install Tightfault Revamp Edit
Search for Minecraft resource packs or texture packs on our website and download it. The result should be a zip file.
Press Window + R to open a Run dialog, type in %appdata% then press Enter.
Navigate to the .minecraft folder, then the resourcepacks
Move the zip file you've downloaded earlier here. Finish installation
Download Tightfault Revamp Edit
Compatible Version
1.18.1 - 1.17.1 - 1.17 - 1.16.5 - 1.16.4 - 1.16.3