Vanilla PBR Texture Pack 1.18.1 → 1.16.5
Vanilla Minecraft is great on its own, but the Vanilla PBR Minecraft pack makes it even better. This texture pack helps to make the game look more 3D and realistic.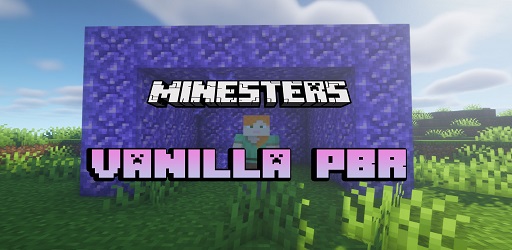 Description about Vanilla PBR Texture Pack
Vanilla PBR: Same Beloved Game with a Sprinkle of Lines and Depth
Minecraft was perfect when it first came out and it continues to be the perfect game today. The blockiness of the game brought older players back to a simpler era of video games and the ease of playing attracted younger players. The Vanilla PBR texture pack, created by h0ppip, keeps all of the goodness of the original vanilla Minecraft but adds a few extra details to make the game look more realistic, without making it not look like Minecraft anymore.
The main difference between vanilla Minecraft and the Minecraft Vanilla PBR resource pack is the texture of building blocks, such as wood, ores, and solid blocks (like gold, emeralds, diamonds, etc.). The ore blocks look much more defined and detailed than they originally were. Players can clearly see mineral veins in the blocks.
With the Vanilla PBR texture pack, each block also has a shadow around it (when it is sunny outside). This helps to make each of the blocks look more 3D. The clouds also look slightly more realistic, but still have a vague blocky outline to them-- making for the perfect mix of the original vanilla Minecraft cloud and a real cloud.
It should be noted that the Vanilla PBR texture pack does not work well with Iris or Fabric. If you are having problems with the textures rendering correctly, make sure to check your shader settings. The parallax occlusion map size needs to be 128. Generally editing the parallax occlusion settings can also help to make the texture pack look better.
Note: To experience the graphics of Vanilla PBR, you must install additional BSL Shader.
How to install Vanilla PBR Texture Pack
Search for Minecraft resource packs or texture packs on our website and download it. The result should be a zip file.
Press Window + R to open a Run dialog, type in %appdata% then press Enter.
Navigate to the .minecraft folder, then the resourcepacks
Move the zip file you've downloaded earlier here. Finish installation
Download Vanilla PBR Texture Pack
Compatible Version
1.18.1 - 1.18 - 1.17.1 - 1.17 - 1.16.5