Visual Enchantments 1.18.1 → 1.15.2
Visual Enchantments is a Minecraft texture pack that makes any enchanted items in Minecraft more visual and easy to realizable with a lot of custom item textures.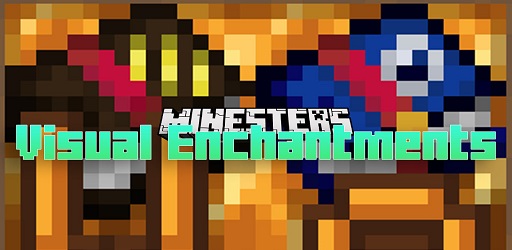 Description about Visual Enchantments
Visual Enchantments Texture Pack: Improve Enchanted Items
Visual Enchantments is a well-known Minecraft texture pack with one and only feature, to make any enchanted items in Minecraft more visualize and easy to realizable with a lot of custom item textures. With over 650,000 downloads over one year, the Visual Enchantments texture pack is totally underrated since its usage of it is huge. Basically, every Minecraft player who has tried this pack would wish this visualization is a thing in vanilla Minecraft.
In the Visual Enchantments Minecraft resource pack, every single item with an enchantment will have a different texture represented to each enchantment. They're not just glowing like before. For example, a Helmet with an Aqua Infinity enchantment will have a breathing pipe attached to it, or a Fire Protection enchantment will have an actual fire icon next to the helmet. Pretty easy to recognize the item without reading it, right?
And not just also adding various textures, Visual Enchantments Minecraft did a great job because every texture looks so good and they fit so well with the vanilla theme. So you can use the Visual Enchantments resource pack without worrying too much about the differences. Here is the full list of items that have a custom texture in this pack: Turtle shell, Helmets, Chestplates, Leggings, Boots, Fishing rods, Swords, Pickaxes, Trident, Bows, Shovels, Axes, Hoes, and Enchanted books.
Visual Enchantments Minecraft requires Optifine to be installed so make sure to download and install it first. Then go to the Optifine setting and turn on the Custom Items option, this will allow the game to use custom texture from the Minecraft Visual Enchantments pack.
Require
Note: Some Texture Packs require Optifine, please download Optifine HD to ensure the most perfect Texture Pack usage.
How to install Visual Enchantments
Search for Minecraft resource packs or texture packs on our website and download it. The result should be a zip file.
Press Window + R to open a Run dialog, type in %appdata% then press Enter.
Navigate to the .minecraft folder, then the resourcepacks
Move the zip file you've downloaded earlier here. Finish installation
Download Visual Enchantments
Compatible Version
1.18.1 - 1.17.1 - 1.17 - 1.16.5 - 1.16.4 - 1.16.3 - 1.16.2 - 1.16.1 - 1.15.2