Lego Minecraft Texture Pack 1.18.1 → 1.16.5
Easily transform Minecraft's traditional blocks into Lego bricks with Lego Minecraft Texture Pack. Having a wide variety of Lego sets to choose for Minecraft.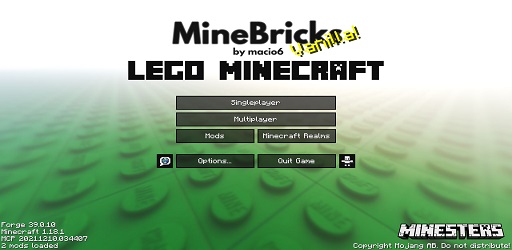 Description about Lego Minecraft Texture Pack
Lego Minecraft Texture Pack – Make a Lego Version of your Minecraft
If you are a Lego enthusiast, there is some good news for you! Using the latest Lego Minecraft Texture Packs, you will be able to transform each block into a Lego brick, allowing you to have the ultimate Lego experience. These features alone should be enough to attract people to give it a shot. The best thing about the Texture pack is that it doesn't cost anything to use.
Despite the fact that there are other Lego texture packs accessible on the internet, none of them are as realistic as this one. With the Lego Minecraft texture pack, you can get graphics that are as photorealistic as possible. One fascinating feature of the mod is that it produces a Lego-like sound when a brick is destroyed.
With the texture pack, each block has a look and feel of the classic Lego cylinders. The tools that are utilized in the game are also constructed from Lego pieces. You can also experiment with some Lego-like weapons, which will make the experience much more enjoyable.
Minecraft bricks aren't all cubes, although there are several exceptions. As an example, you can see that the grass has distinct forms than a block and the long grass, wildflowers, and mobs. As a result, the Minecraft Lego texture pack may take on the appearance of almost anything in the game, which gives you a proper experience of the Lego World. To get the greatest results, we recommend downloading the most recent version of the mod.
Require
Note: All must use the same version
Recommend using SEUS Shaders for best experience
Download Lego Minecraft Texture Pack