Litematica Mod 1.18.2 → 1.16.2
Do you love to play in Minecraft Creative Mode? Love to explore more functions? Download the new Litematica mod and enjoy its treasures for the users.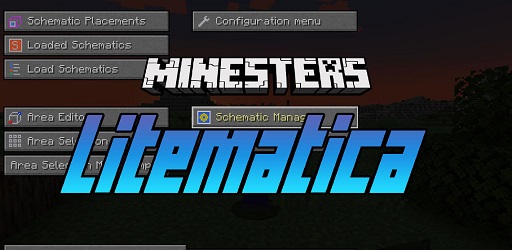 Description about Litematica Mod
Litematica Mod: Extra Functions for Minecraft Creative Mode Users
A new schematic mod is here to shake your Minecraft world. Meet Litematica! The new Minecraft Litematica mod is not based on any previous mod. Who are the target users of this new exciting mod? Well, it has primarily been developed for light mod loaders, including Fabric, Rift, and LiteLoader. So, it's clear that it has been specifically designed for those players who don't want to install Forge on their clients.
Litematica Minecraft java also offers many valuable tools for survival mode, like an advanced copy/paste system, a block placement selection tool, and a build marker that can keep track of which blocks you've already placed.
It does not do anything on its own (though there are some commands available); it requires you to take action to use any of its features.
Litematica Mod is a port of Schematica from Forge to Liteloader. Rebuilding becomes so much easier with this mod. You will get a hologram loaded from a schematic file for this purpose.
The mod also offers a configurable UI with keyboard shortcuts and mouse actions. You will be able to do area cloning, moving, pasting, and filling with blocks or air. There is built-in support for working with vanilla blocks and block states.
The Litematica mod download is available through various websites. You need to have the Minecraft Launcher Vanilla and install the Fabric Installer there to run the mod.
Require
Note: Need to install more required mods to use the best Mods, all must use the same version
How to install Litematica Mod
Make sure you have Forge Mod installed
Search and download any mod you like on our website.
You will get the .jar file after downloading, copy the file.
Press Window + R, type %appdata%, press Enter.
Navigate to the .minecraft folder, then to the mods If you don't have a mods folder, create one, paste the .jar file inside the mods folder
Download Litematica Mod
Compatible Version
1.18.2 - 1.18.1 - 1.18 - 1.17.1 - 1.17 - 1.16.5 - 1.16.4 - 1.16.3 - 1.16.2