Lithium is an optimization Minecraft mod that can increase the performance of your game by around 40% just by optimizing a lot of core game features in Minecraft.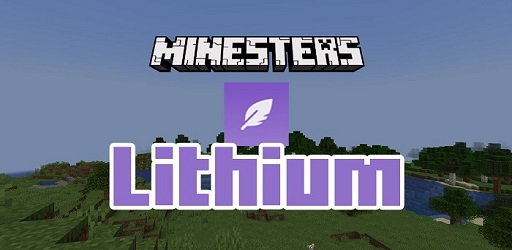 Description about Lithium
Lithium Minecraft: Boost Your Performance with This Mod
Lithium is an optimization Minecraft mod that has over 5,000,000 downloads just in a short amount of time. If you experience a low FPS or poor gameplay in the vanilla Minecraft, Lithium mod can increase the performance of your game by around 40% just by installing it.
Minecraft Lithium was first released only for Fabric Loader since the mod is kinda special. It reduces the collision physics as well as the mobs ai, making them impact less than normal to the game. Also, Lithium Fabric helps with the chunk loading function to reduce the sudden lag spike and other game algorithms. If you're playing Minecraft on a weak computer, the improvement is easily noticeable and you will love this mod!
In specific, Lithium Fabric mod help you with physics, mob ai, world generation, chunk loading, mob farm, block ticking, explosion, point of interest, data tracker, and Redstone wire optimizations.
The only downwards of Lithium mod Minecraft is you need to download and install Fabric Mod Loader and Fabric API, which is quite complicated to an average Minecraft player. Recently, Lithium Minecraft mod also release a version on Forge, this version is lifesaving since it makes Lithium MC reach and help more people!
You can even install Minecraft Lithium mod to a server, and it will boost the performance of that particular server too. Now server tick time is not the biggest nightmare for every player! You can load more chunks and entities faster by just installing this mod. Additionally, Fabric Lithium is compatible with other optimization mods like Phosphor and Sodium, so if you're still experiencing a poor FPS, you can install them all together!
Experience smooth Minecraft Shaders when installing this mod.
Require
Lithium is compatible with Phosphor (Fabric), Sodium (Fabric) can combine 3 mods for the smoothest minecraft experience.
Install Iris Shaders to use Shaders in minecraft
Note: Need to install more required mods to use the best Mods, all must use the same version.
How to install Lithium
Make sure you have Fabric API Mod or Forge Mod installed
Search and download any mod you like on our website.
You will get the .jar file after downloading, copy the file.
Press Window + R, type %appdata%, press Enter.
Navigate to the .minecraft folder, then to the mods folder. If you don't have a mods folder, create one, paste the .jar file inside the mods folder
Download Lithium
Compatible Version
1.18.2 - 1.18.1 - 1.18 - 1.17.1 - 1.17 - 1.16.5 - 1.16.4 - 1.16.3 - 1.16.2 - 1.16.1 - 1.16 - 1.15.2