Modernarch Realism 1.18.2 → 1.15
Have you ever been bored of the normal pixel look in Minecraft? And want to look for something more realistic and gorgeous? ModernArch is the texture pack for you!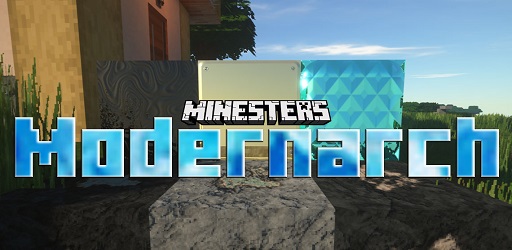 Description about Modernarch Realism
ModernArch: Realistic Modern Minecraft Texture Pack
ModernArch is one of the most popular realistic Minecraft texture packs that you can either download for free or even pay to use a much higher resolution version. With a modern but yet cartoonish looking, the ModernArch Realism resource pack is quite impressive while it makes the texture look super pragmatic, even when you zoom in with the Optifine zoom function.
ModernArch Realism mainly focuses on the interior aspect of the game, where you can fully decorate your house with much more detailed blocks. Let's take a bookshelf block as an example, you can see clearly every single book in the case and even read the text on its spine. If you're going to build a modern wooden house, the ModernArch texture pack also supports that by providing reasonable log and leaves texture. You can see every wood vein and even individual leaves sticking out from the actual block.
Minecraft ModernArch has two special features that make it different and unique compared to other Minecraft texture packs. They are custom 3D models and realistic PBR textures. Those two combined with real pictures are used for a template to make blocks even more realistic and alive!
ModernArch Minecraft has 4 different resolution: 128x, 256x, 512x, and 1024x. It's insane that the smallest resolution for this texture pack is 128x, which is an already large size for a texture pack. You can download the 128x resolution of ModernArch resource pack for free, while you must join the creator's Patreon for other sizes. Just make sure you have a strong enough computer for this pack and Optifine is required!
To export use
Note: Download Optifine HD to be able to use Shaders, the version used must be the same for the best Shaders experience.
How to install Modernarch Realism
Search for Minecraft resource packs or texture packs on our website and download it. The result should be a zip file.
Press Window + R to open a Run dialog, type in %appdata% then press Enter.
Navigate to the .minecraft folder, then the resourcepacks
Move the zip file you've downloaded earlier here. Finish installation
Download Modernarch Realism
Compatible Version
1.18.2 - 1.18.1 - 1.18 - 1.17.1 - 1.17 - 1.16.5 - 1.16.4 - 1.16.3 - 1.16.2 - 1.16.1 - 1.16 - 1.15.2 -1.15.1 - 1.15